Don't ditch Asbos, Labour warns coalition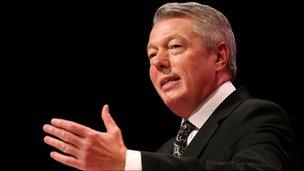 Labour has urged the government not to scrap anti-social behaviour orders (Asbos), claiming such a move would "leave communities helpless".
Shadow home secretary Alan Johnson said the orders, introduced in 1999, had been a "success".
He accused the coalition of a lack of commitment to tackling crime.
Last month Home Secretary Theresa May signalled Asbos could be scrapped in England and Wales, with police adopting a more "common sense" approach.
Ministry of Justice figures show 55% of the almost 17,000 Asbos issued between June 2000 and December 2008 were breached, leading to an immediate custodial sentence in more than half of the cases.
But Mr Johnson insisted the orders had worked, saying: "Everyone remembers that under the last Tory government crime rocketed and anti-social behaviour was classed as low-level nuisance and not taken seriously.
"This time around, Tory Home Secretary Theresa May is wrongly claiming that Asbos don't work.
"The problem is not the powers available but her government's lack of commitment to tackling crime and disorder in our communities.
"Asbos have worked and will continue to work provided they are used effectively," he added.
"Scrapping Asbos and cutting police budgets would leave communities helpless and vulnerable.
"Cracking down on crime and disorder needs to be constantly reviewed and improved but the Asbo is a success."
In a speech last month, Ms May said: "It's time to move beyond the Asbo."
She said she wanted a review of the powers because police should be able to use their professional judgement in dealing with anti-social behaviour, while punishments should be "rehabilitative and restorative", rather than "criminalising".
The home secretary argued that poor behaviour should no longer be "frequent, normal and tolerated".
Her proposals include a crackdown on binge drinking, reform of the licensing laws and making police a more responsive and accountable part of local communities.
It will be up to ministers in Scotland and Northern Ireland to decide what to do, if anything, with Asbos, as they are a devolved matter there.
Related Internet Links
The BBC is not responsible for the content of external sites.