Safety groups oppose switching off of speed cameras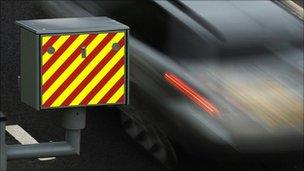 Safety organisations have issued a joint statement opposing the switching off of speed cameras by local authorities, saying they save lives.
The groups, including the Royal Society for the Prevention of Accidents, say cameras should continue to be used at locations with high accident rates.
A number of councils have started to turn off all their cameras after the government ended central funding.
The AA motoring group has also signed the statement.
Other signatories included the Institute of Road Safety Officers and the Parliamentary Advisory Council for Transport Safety.
The joint statement said: "Speed cameras help to save lives - an estimated 100 lives a year in the UK.
"Lives are saved by reducing speeding. Speeding significantly increases the risk of an accident happening and also increases the severity of injuries in an accident."
It added: "Switching off cameras systematically would be close to creating a void in law enforcement on the road."
Road Safety Minister Mike Penning said last month that the decision to end central funding for fixed speed cameras was "another example of this government delivering on its pledge to end the war on the motorist".
Related Internet Links
The BBC is not responsible for the content of external sites.