'More diverse' crowds at Premier League football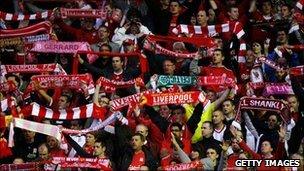 Increasing numbers of women and ethnic minorities are attending top-level football in England, research suggests.
The study found 19% of fans going to Premier League games in the 2008-09 season were women, and 8% were black or from ethnic minorities.
The research by Populus also found that more children were going, with young people having 13% of season tickets.
The Premier League said the diversity of crowds attending its matches was a "powerful advert for English football".
The research included a poll of 2.3 million fans who had been attending matches over the past five years, which found 33% were women and 16% black or ethnic minority.
A total of 13.6 million fans went to Premier League games during the 2008-09 season.
Premier League chief executive Richard Scudamore said: "This research is hugely encouraging because it confirms the hard work we and the clubs have put into improving the quality of experience both on and off the pitch.
"Football is increasingly attractive to more sectors of society, which is fantastic because it was only a generation ago that people used to look down their nose and see it as a rather narrow preserve."
He added: "Now women, children and black and minority ethnic fans make up a significant proportion of the crowd - and when you have 500 million homes in 211 countries tuning in to see Barclays Premier League matches every week they see that's a powerful advert for English football."
Children were not surveyed for the study, but the figure for young people's season tickets was up from 10% in 2004-05.
The research found 28% of adults went to matches with their children, and seven out of 10 of those saw it as a family day out.
Almost all fans (97%) fans felt safe both inside the stadium, and outside before and after the match.
BBC Sport's Matt Slater says the timing of the report is significant, as it partly dispels the idea that rising ticket prices are making football less inclusive.
And he says the picture of a more diverse crowd is one England's 2018 World Cup bid will be keen to impress on Fifa's inspection team, currently touring facilities in the country.
Related Internet Links
The BBC is not responsible for the content of external sites.