Newspaper review: Budget report makes front pages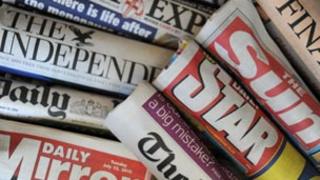 The conclusion, by the Institute for Fiscal Studies think tank, that the coalition's emergency Budget was regressive makes the lead for the Daily Telegraph and the Guardian.
The Chancellor claimed at the time that the Budget was progressive.
The Guardian leader column says the Tories and Liberal Democrats are going to have to take back their words.
The paper believes that no minister can read the IFS report and attempt to describe their measures as fair.
Stepping stone
A number of leader writers consider the the finding of an official inquiry that a Catholic priest was involved in an IRA bombing in 1972 and protected from arrest in a secret deal between the UK government and the Catholic Church.
The Daily Mirror warns that the report must be regarded as a stepping stone towards reconciliation, and not an excuse to reopen old wounds.
The Daily Express says the revelations will do nothing to restore trust in the Catholic Church, still reeling from the child abuse scandal.
Holiday arrival
The last time the prime minister went to Cornwall, the Daily Telegraph recalls, someone threw an egg at him.
Now David Cameron has something happier to show for his holiday visit - a fourth child for him and his wife. "What a souvenir!" the Times remarks.
It was, the Independent says, one of the more surprising interruptions to a family holiday.
The Sun jokes that it could be the Cornish ice cream which caused Samantha Cameron to go into labour early.
Bee discovery
There is good news for beekeepers in the Daily Mail and Daily Express.
They report that a British expert may have discovered the cure to a parasite causing a rapid decline in the world's bee population.
According to the Mail, Ron Hoskins has found a breed of the insect that protects itself against the parasite.
Mr Hoskins made the discovery after realising that one of his hives had far fewer deaths from the varros mite than other hives.