Newspaper review: Budget report makes front pages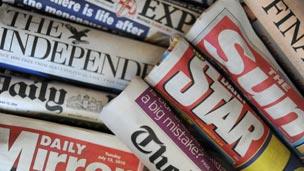 The conclusion, by the Institute for Fiscal Studies think tank, that the coalition's emergency Budget was regressive makes the lead for the Daily Telegraph and the Guardian.
The Chancellor claimed at the time that the Budget was progressive.
The paper believes that no minister can read the IFS report and attempt to describe their measures as fair.
A number of leader writers consider the the finding of an official inquiry that a Catholic priest was involved in an IRA bombing in 1972 and protected from arrest in a secret deal between the UK government and the Catholic Church.
They report that a British expert may have discovered the cure to a parasite causing a rapid decline in the world's bee population.
According to the Mail, Ron Hoskins has found a breed of the insect that protects itself against the parasite.
Mr Hoskins made the discovery after realising that one of his hives had far fewer deaths from the varros mite than other hives.
Related Internet Links
The BBC is not responsible for the content of external sites.