Court grants Barry George compensation review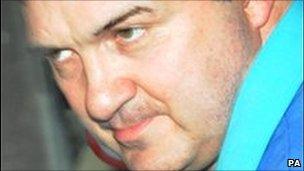 The man who spent eight years in jail before being acquitted of TV presenter Jill Dando's murder has won the first part of his legal bid for compensation.
Barry George, 50, was convicted in July 2001 but was freed in 2008 after being granted a retrial which acquitted him.
The High Court has now ruled he is entitled to a judicial review hearing over the government decision to refuse him compensation of up to £500,000.
Ms Dando, 37, was shot outside her south-west London home in April 1999.
Mr George, who is from Fulham, was refused compensation in March this year by the then Justice Secretary Jack Straw, and a judge turned down his request for judicial review of that decision in May.
Legal papers submitted to the court say that Mr George suffers from post-traumatic stress disorder "in consequence of his wrongful conviction and sentence".
His barrister, Ian Glen QC, says his rehabilitation will depend on his financial circumstances, as he is unlikely to ever obtain paid work.
It is said that Mr George also suffers from Asperger's syndrome, epilepsy and has learning difficulties.
His lawyers argue that he was the subject of a miscarriage of justice and that he is "clearly innocent".
Granting the review, the High Court judge said the hearing would not take place until after a Supreme Court ruling on similar cases next year.
The Supreme Court, which is the UK's most powerful court, is set to hear three appeals next February concentrating on what the meaning of the phrase "miscarriage of justice" means when it comes to claims for compensation.
Mr Justice Collins said: "I think the appropriate course for me is to grant permission, but to direct that no steps are taken - that there should be a stay on any further action - until the decision of the Supreme Court is known."
Before the High Court could make its decision, Mr George had to show the judge that he had an "arguable case" against the decision to not give him compensation for the time he spent in jail.
But once the Supreme Court decisions are made, the High Court will be expected to organise hearings where each side will argue their case.
The next step would be a ruling which would decide whether Mr George is allowed compensation or not.
If Mr George is granted compensation, he could receive up to £500,000.
Ms Dando was shot once in the head outside her home in Fulham on 26 April 1999.
Mr George was found guilty of the crime in 2001 but that original conviction was quashed on appeal in November 2007.
He was acquitted after a retrial the next year.
The case remains unsolved.
Related Internet Links
The BBC is not responsible for the content of external sites.