Supermarket bag use cut nears 50% target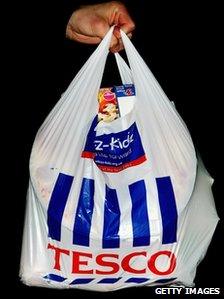 Supermarket shoppers are using almost half as many single-use plastic bags as four years ago, a report suggests.
The British Retail Consortium says the number used fell every year from 2006 to May 2010, resulting in a 43% cut from 10.6 to 6.1bn bags overall.
The total weight of material used for the bags more than halved over the same period, the consortium added.
In 2008, the UK's seven leading supermarkets pledged that the 2006 total would be halved the next year.
But 2009's reduction of 37%, followed by this year's figure 43% below the 2006 mark, means the industry has missed its 50% target for the second consecutive year.
Nevertheless, the consortium (BRC) says the latest figures are a "ringing endorsement" of the on-going voluntary agreement by Asda, the Co-operative Group (now incorporating Somerfield), Marks & Spencer, Sainsbury's, Tesco and Waitrose.
BRC director general Stephen Robertson said: "This is a tremendous achievement by supermarkets, customers and staff, especially as between 2006 and 2009 the amount of goods sold by participating retailers grew by over 6%.
"The sustained reduction shows that customers are permanently adopting the habit of re-using their bags.
"The reduction in bag use is great news, but it's the halving of the total weight of single-use carrier bags which shows retailers really scoring on the crucial issue of reducing environmental impact."
The supermarkets have used a number of tactics to cut the number of single-use bags, including hiding them at the checkout, and charging for reusable bags.
"Retailers are working hard on a range of other environmental measures, such as reducing food waste, reducing and redesigning packaging, as well as providing customers with recycling information through the on-pack recycling label," Mr Robertson added.
Related Internet Links
The BBC is not responsible for the content of external sites.