UK pledges to continue Pakistan flood support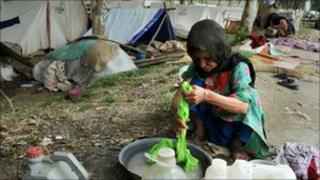 The UK will continue to help victims of the devastating floods in Pakistan, the National Security Council has said after meeting in London.
The commitment came as the Disasters Emergency Committee (DEC) revealed its Pakistan Floods Appeal has now raised £35m.
Deputy Prime Minister Clegg said the UK public's response to the situation made him feel "proud to be British".
More than 17 million people have been affected by the floods, the UN said.
During the NSC meeting, International Development Secretary Andrew Mitchell told attendees about his experiences during his visit to Pakistan last week, and the meeting agreed that British people had responded "magnificently" to the DEC appeal.
Mr Clegg chaired the session and attendees discussed how best to distribute £64m of aid that the government has assigned to the country.
Generous public
The government pledged to continue helping relief effort and said 10 British-made road bridges were being sent to the Khyber Pakhtunkhwa district.
Most of the UK's extra funding, which was announced last week, would be used to help those in the most dire need of assistance in the Sindh and Punjab provinces in the south, as well as some targeted towards helping those in the north to rebuild their lives.
The money would be used to meet the urgent demand for shelter, food, clean water and healthcare, and for longer-term projects such as supplying farmers with crop seeds.
More RAF aid flights are also set to head to the country later in the week. The first flight will take 3,000 shelter kits - enough for 15,000 people.
The council said it was also important to "galvanise" the wider international community.
Mr Clegg, along with Mr Mitchell and Baroness Sayeeda Warsi, then visited the DEC headquarters in London where he met the staff co-ordinating the appeal.
He praised the British public and said its response had shown "Britain at its best".
During his visit, he said: "It really is just astonishing to see how people's generosity has grown.
"That's a reflection of how people have become more and more aware of how bad this catastrophe is."
He said it had taken some time to realise the "enormity" of the disaster.
"I just think it's fantastic to see once again Britain and British people in communities up and down the country showing such generosity and compassion," he said.
"We really are leading the world in our generosity towards Pakistan and that makes me feel very proud to be British."
Baroness Warsi, who also visited Pakistan with Mr Mitchell, later told the BBC that the extent of the disaster was so huge that, despite relief efforts, it would continue to unfold over the coming months and years.
She refused to be drawn into the arguments over whether the Pakistani government had acted quickly enough and instead said: "I think any government faced with a disaster like this would be struggling."
She said that many of the donations arriving via British charities were being channelled through non-governmental organisations (NGOs) in Pakistan as they could keep track of the money.
"There is a clear monitor about where that money is spent and how it is being spent," she said.
"And I think that monitoring of aid and a clear transparent process of it reaching the needy will give people comfort and hopefully make them donate more."
Trust
Former Labour Foreign Secretary David Miliband responded to fears the disaster had the potential to be exploited by groups linked to Islamic militants and al-Qaeda.
Mr Miliband said the support effort provided the international community the chance to "stand shoulder-to-shoulder with Pakistan" to help it tackle its problems.
He said: "This is an opportunity to build up the sort of trust and engagement that I think is very important to the future of this volatile country."
But, in a statement, DEC chief executive Brendan Gormley said more still needed to be done.
He said: "The UK public have led the world with their generosity but there is an enormous amount of work still to be done in Pakistan.
"Our members and their partners have reached 800,000 people so far, but millions still need help."
The DEC is an umbrella organisation of 13 UK humanitarian aid agencies - ActionAid, Age UK, British Red Cross, Care International, Cafod, Christian Aid, Concern, Islamic Relief, Merlin, Oxfam, Save the Children, Tearfund and World Vision.
If you would like to make a donation to help people affected by the floods in Pakistan, you can do so through the UK's Disasters Emergency Committee at www.dec.org.uk or by telephone on 0370 60 60 900.