Arthur Scargill loses NUM voting rights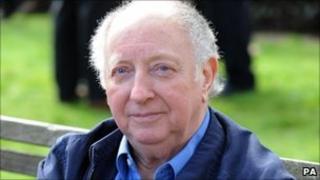 Former National Union of Mineworkers president Arthur Scargill has been told he no longer qualifies for full membership of the organisation.
Mr Scargill, who led the union during the year-long miners' strike in 1984-5, retired as president in 2002.
NUM national secretary Chris Kitchen said Mr Scargill, who is from Barnsley, remained honorary president of the union, but had lost his voting rights.
Mr Scargill told friends he would fight the move, PA news agency reported.
He was among a number of people who received letters saying they were no longer eligible for membership of the union.
Mr Kitchen said Mr Scargill could become a "life member", "retired member" or "honorary member" but not a full financial member.
He confirmed that Mr Scargill had been sent a letter informing him that he did not qualify as a member according to the union's own rule book - which Mr Scargill was instrumental in drawing up.
Mr Kitchen told the BBC: "I shall imagine Arthur will be against it but unfortunately we have to abide by the rule book and he has been party to drawing the rule book up."
Mr Kitchen added that the the union's Yorkshire area section had reviewed Mr Scargill's membership and made the decision.
'Witch-hunt'
Former NUM vice-chairman Ken Capstick told BBC's PM programme he felt it was "the most disgraceful day" in the union's history.
"Basically the membership of the union [which Mr Kitchen] has removed from Arthur Scargill denies him any rights under the union's rules or under union membership."
He told the BBC he was unhappy with the role Mr Kitchen, who also heads the Yorkshire division, in the decision.
He said he felt Mr Kitchen had carried out a "witch-hunt" against himself, Mr Scargill and others also affected after some members began to raise claims of financial irregularity in the union.
He said: "He has removed one of the greatest trade union leaders that the NUM has ever had from membership."
Mr Capstick disputed Mr Kitchen's explanation and said that Mr Scargill still qualified as a member.
"Anyone employed by the NUM or one of its areas qualifies for full membership of the union under the union's rules", he said.
"Mr Scargill is employed by the Yorkshire area and has a contract of employment until the end of 2011.
"Mr Kitchen's actions are the actions of a desperate man.
"It will go down in the annals of trade union history as one of the most despicable actions by a trade union against one of the greatest leaders it has ever had," he added.
Another former NUM leader said he had also received the same letter and would be fighting the decision to strip him of his full membership.
Steve Kemp, general secretary of the union between 2002 and 2007, said that his rights would be "heavily watered down" if he accepted the offer of partial membership.
He said: "It looks as though the Yorkshire region has decided to look at the membership and get rid of a number of members which is astonishing especially at a time when unions are facing cuts and are losing members."
Mr Kemp, who has held his membership for 31 years, said the union had informed him he could not appeal against the decision but that he would still take steps to "fight" the decision, PA reported.
Mr Scargill, who is also currently leader of the Socialist Labour Party, has continued to carry out work for the union since stepping down as president - a role he was first elected to in 1981.
His clashes with then Prime Minister Margaret Thatcher during the 1980s miners' strike earned him cult status among many miners but the government refused to back down over its plans to close pits.
Although the NUM stood firm at first, miners began to return to work and industrial action was called off - weakening the power of the once mighty union.