Newspaper review: Papers ponder MI6 murder mystery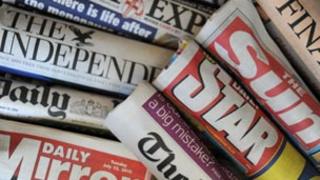 There is no shortage of speculation over the mystery of the murder of MI6 employee Gareth Williams, whose body was found at his flat in London.
The Daily Mirror describes him as a "perfect spy" who never broke espionage etiquette by talking about his job.
The Daily Mail says police fear the murderer could have stolen state secrets which could be sold on.
Detectives believe he might have been killed by a jealous lover, according to the Daily Telegraph.
Consigned to history
Fugitive tycoon Asil Nadir's expected return to Britain to face fraud charges, 17 years after fleeing the country, is the lead for the Times.
It says the former Polly Peck chief's decision has caused surprise.
There was no pressure on him to return, and the Serious Fraud Office had consigned the case to history.
Almost everyone involved in the original investigation has either retired or left the SFO, and the files had been stored in the archives.
County connection
The papers pick over David and Samantha Cameron's choice of name for their baby daughter - Florence Rose Endellion.
Most attention focuses on the Cornish connection - St Endellion is a village in the north of the county.
According to the Independent, she shares the name Endellion with just five adults in Britain.
The Daily Mail believes Florence could be a reference to the prime minister's liking for the pop group Florence and the Machine.
Cover operation
Of all household chores, wrestling a duvet into its cover can be one of the most exasperating, says the Daily Mail.
Now, reports the Daily Telegraph, a single mother has come up with a simple solution that could take the headache out of making a bed.
Joyce Burt, 43, has developed a duvet cover that opens on three sides, which means a quilt can be easily slipped in and secured in seconds.
Brilliant, simple and blindingly obvious, says the Daily Express.