UK military now stationed in Yemen and Pakistan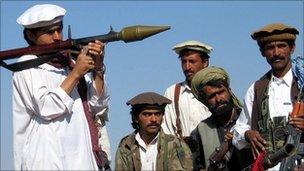 British military personnel are now stationed in militant hotspots Yemen and Pakistan, official figures show.
About 20 members of the Royal Navy are based in Yemen, and a similar number of Navy personnel and Army officers are serving in Pakistan.
Critics say both countries harbour extremists and export terror.
Other figures show the UK's Armed Forces are currently at 99.7% of their full-time trained strength target of 178,880, up from 97.4% a year ago.
Pakistan and Yemen have both faced accusations over their record on dealing with militants.
Two of the 7/7 London bombers trained in Pakistan and the suspect in the failed Detroit airliner bombing on Christmas Day 2009, Umar Farouk Abdulmutallab, is believed to have been radicalised and trained in Yemen.
In April, Britain's ambassador to Yemen, Tim Torlot, escaped unharmed when a suicide bomber targeted his car as he travelled to work in the capital, Sana'a.
Prime Minister David Cameron triggered a diplomatic row last month when he said that Pakistan should not be allowed to "look both ways" and "promote the export of terror".
Last year, there were no members of UK forces stationed in the two countries, according to statistics released by the Defence Analytical Services Agency (Dasa).
Related Internet Links
The BBC is not responsible for the content of external sites.