Tomlinson pathologist 'unfit to continue' work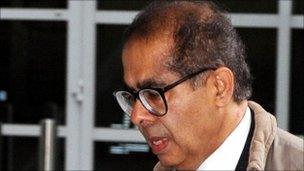 The pathologist at the centre of a row over the death of a man at the G20 protests has been described as unfit to continue practising, at a hearing.
The General Medical Council found Dr Freddy Patel had been "irresponsible" in earlier, unrelated examinations.
He could be suspended or struck off the medical register at a later hearing.
Dr Patel's findings on the death of Ian Tomlinson differed from those of two colleagues, and led to no charges being brought over the death at the G20 demo.
Simon Jackson QC, representing the GMC, said his lack of understanding or ability to recognise his "serious failings" in the cases suggested he could make future errors of judgment.
Dr Patel, 63, was said by the disciplinary panel to have failed to identify marks on the body of a five-year-old girl which suggested she had been violently attacked prior to her death in 2002.
Speaking at the hearing on Thursday, Mr Jackson said this "created a potential risk of a loss of crucial evidence".
Mr Jackson said Dr Patel should have especially reported a mark over the girl's left shoulder blade, which would have prompted further investigation because the markings raised the "index of suspicion" about her death.
"This would probably have prevented the distressing events which followed, without the need for the child being buried then having to be exhumed," Mr Jackson said.
Mr Jackson also said the pathologist had a duty to act as a "gatekeeper", adding: "There may be no further opportunity to find and report such findings if the body were to be cremated."
On Wednesday the panel found Dr Patel was irresponsible and failed to meet professional standards during his post-mortem examination on a four-week-old baby in 2003.
He did not obtain full skeletal X-rays prior to the examination, a procedure recommended by the Royal College of Pathologists.
Mr Jackson described this as a "significant failure" and said that if the X-rays had been carried out first, "it would have completely altered the way this post-mortem examination would have been completed".
Dr Patel had carried out that particular post-mortem exam at 7.20am, before the radiologist started work at 9am, and Mr Jackson said this decision "brings into question his whole judgement and approach".
Dr Patel was the pathologist who carried out the first post-mortem examination of newspaper seller Ian Tomlinson, who died at the G20 protests in London on 1 April 2009.
He concluded that Mr Tomlinson died of natural causes linked to coronary artery disease.
However, two other pathologists later separately concluded that Mr Tomlinson - who had been pushed by a police officer - died of internal bleeding as a result of blunt force trauma, in combination with cirrhosis of the liver.
The failure of the three pathologists to all agree on the cause of Mr Tomlinson's death led to the director of public prosecutions ruling that the policeman in question would not face any charges.
Dr Patel has since been barred from carrying out Home Office forensic pathology work.
Related Internet Links
The BBC is not responsible for the content of external sites.