Defence companies concerned over Trident replacement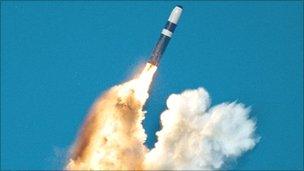 Defence manufacturers have asked David Cameron to clear up confusion over how the replacement for Britain's nuclear deterrent will be funded.
The chairman of the industry body ADS, Ian Godden, said uncertainty over the Trident missile system was unsettling both investors and the UK's allies.
There are concerns as to what way the successor to Trident would impact on wider defence spending.
Trident is due to be replaced in the 2020s at an estimated cost of £20bn.
BBC defence correspondent Caroline Wyatt said the Conservatives' commitment to a like-for-like replacement has not been shared by the Liberal Democrats, who promised in their manifesto to seek a cheaper alternative.
The letter sent to David Cameron is a clear sign of just how worried manufacturers are about the potential impact of making the Ministry of Defence bear the full costs of the Trident replacement, our correspondent added.
In the message, Mr Godden said the UK-based defence industry had "reflected with great concern on the recent statements by senior ministers in the media about the nation's nuclear deterrent".
He added: "The uncertainty caused by these statements will be as unsettling for investors as it must surely be for our allies.
"A decision to move Trident renewal to the defence budget without a commensurate transfer of funding calls into question the integrity of the Strategic Defence and Security Review process and complicates the future funding of our conventional capabilities and our nation's ability to support its allies.
"It is vital that this confusion is cleared up as soon as possible."
The previous government promised that the estimated £20bn needed to build Britain's next nuclear deterrent would come from a separate budget.
But the Chancellor, George Osborne, has insisted the money must be taken from the already over-stretched defence budget - currently about £37bn a year, or 2.2% of GDP.
That has led to a public tussle with the Defence Secretary Liam Fox over the funding.
The MoD is currently conducting a wide-ranging review of Britain's future military needs, and is already having to come up with options for cuts of up to 20%.
If the MoD had to bear the full cost of the replacement, the cuts to the UK's conventional forces and equipment would be even deeper than expected.
Related Internet Links
The BBC is not responsible for the content of external sites.