Roadworks lifted for bank holiday weekend getaway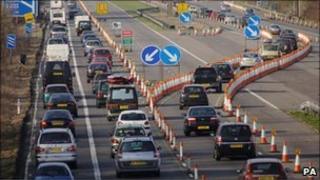 More than two-thirds of traffic works on main roads will be completed or suspended for the bank holiday weekend getaway, the Highways Agency has said.
The agency, responsible for motorways and major trunk roads in England, said the move would help traffic flows.
But motorists heading to the South West faced delays after an eight-vehicle pile-up temporarily closed the M5 at Cullompton, near Exeter.
The bank holiday weather is set to be mostly fine over the UK, with showers.
'Notoriously busy'
The Highways Agency said about 280 miles of roadworks at 83 locations would be completed in time for the weekend.
A further 24 sets of roadworks and lane restrictions covering 64 miles were due to be removed by 0600 BST on Friday until at least midnight on Monday.
The agency said the measures would provide extra capacity for holiday traffic, and its traffic officers would be patrolling the network to help the smooth flow of vehicles.
But restrictions remain in place at 32 locations, including two sections of the M25 and works at the M48 in Chepstow, Wales, and the M62 near Leeds.
The RAC said major routes are likely to start getting particularly busy early in the afternoon, with some 16m cars expected to take to the roads over the weekend.
The breakdown service said bottlenecks were likely to include the M25, the M1 in Bedfordshire, the M4 in Berkshire, the M23 in Sussex and the M40 in Oxfordshire.
Roads taking drivers towards south-west England as well as routes in the Lake District and roads near Blackpool, Alton Towers in Staffordshire and Boston in Lincolnshire, are also expected to be busy.
Events over the weekend include music festivals at Reading and Leeds and the Notting Hill Carnival in west London.
Rail passengers face some restrictions due to engineering work, but there will be almost 30% fewer replacement bus services needed than in the same period last year.
Engineering work between Wolverhampton and Stafford will hit services run by the Arriva Trains Wales, CrossCountry, London Midlands and Virgin train companies, with buses replacing trains on some sections of the West Coast Main Line.
Travel organisation Abta said about 1.8m people would leave the country between Friday and Monday.
Transport Secretary Philip Hammond said: "The completion and lifting of these roadworks will help those planning to drive over a notoriously busy weekend for our roads.
"More than 98% of the network will be clear of roadworks, meaning more lanes will be open and many speed restrictions lifted."
He added: "Traffic officers will also be patrolling the network to help clear up any incidents as quickly as possible. And the Highways Agency will continue to provide a range of traffic information services to help road users plan their journeys."
Dry forecast
The crash on the M5 happened on the northbound carriageway between junctions 29 and 28 shortly before 2100 BST on Thursday. It has since re-opened.
A critically-injured 21-year-old woman was among seven people airlifted to hospital by air ambulances and a helicopter from RAF Kinloss in Moray.
BBC weather forecaster Simon King said there would be sunny spells for most areas on Friday, with some showers.
Bank Holiday Monday is set to be mostly dry with sunny spells, with maximum temperatures of 20C (68F) in London and Cardiff, 18C (64.4F) in Belfast and 17C (62.6F) in Edinburgh.