Cutting short jail sentences 'will not reduce crime'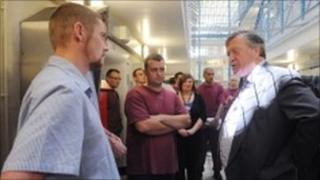 Government plans to lock up fewer criminals would not reduce offending or cut costs, a report says.
Ex-Home Office criminologist Professor Ken Pease said community sentences have no evident effect on reconviction rates in their current form.
His report, Prison, Community Sentencing and Crime, has been released by the think-tank Civitas.
It follows Justice Secretary Ken Clarke's call for alternatives to jail to be developed.
Prof Pease said it was important for any move away from the use of custody "to be based on something more than short-term political exigency".
He said using community sentences to replace short prison sentences simply "freed the group most likely to reoffend to do so sooner, with no evidence of a current treatment benefit from community sanctions to offset that."
Prof Pease said arguments for fewer short sentences failed to take into account that jailing persistent offenders gave the public a respite from crime.
Using government data, he estimates that more than 13,000 offences would be prevented every year if short-term prisoners spent an extra month in custody.
Professor Pease says the main reason why crime has fallen over the past decade is because of improved security measures.
But he claims the debate about whether prison helps cut crime has been distorted by what he says are the "convenient fictions" that it is expensive and less effective than community sentences.
'Shut revolving door'
He pointed to estimates of offending rates per conviction, including one which stated there may be up to 136 burglaries for every burglary conviction.
This suggested, "the distinct possibility that, far from a high price being paid for the crime reduction benefit being provided by custody, a price is being paid for the failure of community sentences to reduce criminality," he said.
Last month, Mr Clarke outlined radical prison reforms to "shut the revolving door of crime and reoffending".
Criticising the growth of the prison population in England and Wales, he said there must be other penalties.
But former Conservative Home Secretary Michael Howard said he was "not convinced" by Mr Clarke's suggestion that fewer criminals should be sent to prison.
And Tory MP for Shipley Philip Davies said his own party's plans were "ludicrous".
He added: "The government appears to have been hijacked by the liberal establishment in terms of prison policy and sentencing policy.
"I hope that this report will make them think again and yank them back from potentially making a serious mistake.
"The idea that community sentences can be an alternative to prison sentences is ludicrous."
'Costly prison places'
Roma Hooper, founder and director of Make Justice Work - which campaigns to abolish short-term prison sentences - said many prisoners found community punishments harder than jail.
She said: "I think what is interesting is that [the report] does say that well resourced and well delivered community sentences can work.
"I have met people in prison who find it much easier than on a community sentence where they have to get up in the morning and do something useful.
"There is a massive amount of evidence that shows once you serve a prison sentence the deterrent effect has gone."
A Ministry of Justice spokesman said community sentences could be a cost-effective and rigorous alternative to prison.
"The rate of reoffending by offenders following short prison sentences is 61% compared to 36% for those on community sentences.
"The government is committed to a full assessment of sentencing policy and rehabilitation, part of which will look at tough new alternatives to costly prison places.
"The government's priorities are to protect the public, punish offenders and divert them from the revolving door of prison and reoffending."