Tony Blair's memoirs dominate coverage in the press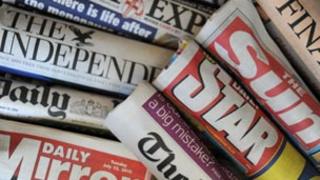 The extracts from Tony Blair's memoirs, A Journey, are the lead for most of the day's newspapers, and the coverage also spills onto the inside pages.
The Daily Telegraph has a picture of him and his successor looking in different directions.
It carries the headline, "Gordon Brown tried to blackmail me, says Blair".
The Guardian has the headline: "I knew Brown premiership would be disaster for Labour". For the Times, it is: "Blair: why Labour lost".
Blair criticism
The Independent's headline: "Journey's End", is a play on the title of Tony Blair's book.
It says Mr Blair has finally broken his silence on the tension between him and Gordon Brown during their time together in Downing Street.
The Daily Mail focuses on what it calls Mr Blair's "self-serving justification" of the Iraq war.
The headline the paper chooses to demonstrate its point is: "Crocodile tears - and still no apology".
The Daily Mirror has announced, as its main story, that it is backing David Miliband to become the next leader of the Labour Party.
Food fancies
It believes he has the "intellect, talent and experience" to take on the Conservatives - and eventually become prime minister.
The Financial Times also backs Mr Miliband, the former foreign secretary.
It says he is the only candidate who can respond to the coalition's plans to reduce the deficit.
A study suggests millions of women admit to telling white lies to their children to coax them into eating healthy foods.
According to the Daily Express, researchers found eight out of ten mothers wheel out old classic lines.
These include "carrots will help you see in the dark" or "crusts will make your hair curl".
The Mail says other food fibs include the claim that ice cream vans only play music when they are out of lollies.