Pair in the wrong place at the wrong time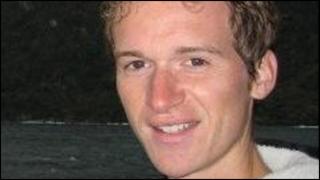 A delivery driver has been given a suspended jail sentence for causing death by careless driving after two people were killed by his van when he forgot to put on the handbrake. It was a freak accident with tragic consequences.
Dave Smith and Claudia Kauert were the victims of a totally unpredictable event that claimed both their lives. The loved ones they left behind will forever wonder, "What if..?"
Dave, 24, had moved to London only a week before from his home in Alsager, near Stoke-on-Trent, to work in IT at Lloyds TSB's offices in the City.
He had only recently returned to the UK after travelling to Australia, New Zealand and the United States on a gap year. It was Friday, 24 April 2009, a pleasant, sunny day in the capital, and he was on his lunchbreak, walking along the pavement in Pudding Lane.
Claudia was just feet away on the same pavement. The 33-year-old financial services expert from Bielefeld, Germany, was on a brief business trip to London. As she walked, Claudia was checking text messages on her mobile phone.
Suddenly they were struck from behind by a white Mercedes Sprinter van, which had rolled silently down the hill.
Travelling at 12mph, it caught the pair unawares and they were pinned between the three-tonne van, a wall and the ground.
Although a crowd of passers-by managed to push the van off them, both had suffered catastrophic internal injuries and died shortly afterwards.
The news came out of the blue and naturally devastated Dave's parents, Denise and Tom, his sister Leanne, and his girlfriend Kimberly.
Families devastated
It was also a terrible shock for Claudia's fiance, back in Germany, when the news was broken to him.
But what led to such a freak accident?
The van driver, 52-year-old Larkland May, was eventually tried for manslaughter and causing death by careless driving.
On 1 October he was given a suspended eight month sentence.
Passing sentence, Judge Geoffrey Rivlin QC, said: "The facts of this case are so unusual, so exceptional, so awful, to make it impossible for anyone to devise a truly just judgment."
At May's trial at Southwark Crown Court, Christopher Hehir, prosecuting, said: "Of both the victims it can truly be said each was in the wrong place at the wrong time.
"It was their misfortune to be on that short and narrow stretch of pavement at precisely the moment the van rolled off."
Although May insisted he had put on the handbrake before he left the van to deliver stationery to an office in Pudding Lane, the evidence proved otherwise.
But even then, tragedy could have been averted if the van had not been nudged, just slightly, by another car.
Film producer Martin Rosenbaum had been filming a documentary about the poet TS Eliot in the City that day.
He had parked his Saab car in Pudding Lane, having had to move it from another spot because of waiting restrictions.
When he came to drive away he found May's van blocking his way and he described in court how he manoeuvred past it.
Mr Rosenbaum's car must have touched the van ever so slightly. He said he was not even aware he had hit the van but he remembered it moved forward and he assumed the driver was edging forward to let him out.
Mr Rosenbaum drove off and was completely oblivious to what happened until almost a month later, when police officers arrived at his door to question him.
He was eventually cleared of any blame with May being found to be legally responsible.
But charges of manslaughter against May were dropped during the trial after the judge pointed out the prosecution had not sought to prove he deliberately did not bother to apply the handbrake.
Giving evidence, May, from Edmonton, north London, told the jury he always applied his handbrake before turning off the engine.
He described his dismay when he came out of the office block to find his van had rolled down an incline.
"I couldn't believe what I was seeing," he said.
He said: "On that day three sets of families were devastated.
"There was the family of both the young man and the young lady and my family. It was a hard time for everybody. It's something I will never forget."
But Dave Smith's family will forever wonder why he had to be in the wrong place at the wrong time.
Mr Smith's mother Denise said in a statement read to the court: "Words are inadequate. We are devastated, we cannot come to terms with the fact David is gone.
"No-one can give us what we want, and that is David back.
"The agony is that David's life has been taken away and he was just 24."