The UK visits of Benedict XVI and John Paul II compared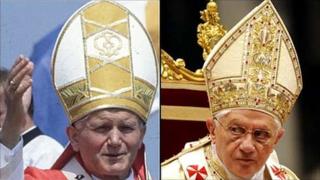 Pope Benedict XVI will next week become the first head of the Catholic Church to pay a state visit to the UK.
Much has changed since Pope John Paul II toured the UK - on a pastoral visit - in 1982, and the forthcoming trip has not been short of controversy. How do the two compare?
The men
During his four-day visit, Pope Benedict will meet the Queen, politicians and religious leaders, deliver a dozen speeches or homilies, preside at public Masses in Glasgow, Birmingham and London, and a prayer service in Hyde Park.
But this visit is expected to be a lower-key affair than that of his predecessor. Dubbed "the rock star Pope", John Paul II was handsome and charismatic, known for theatrical flourishes such as kissing the ground when he got off his plane.
Some said the Polish Pope's UK visit - the first by the head of the Catholic Church - was the biggest event for British Catholics since emancipation in the 1820s.
He was hailed as a hero in the battle against communism, and during his six-day tour of England, Scotland and Wales, nearly 2m people flocked to see him at venues including London's Wembley Stadium, Glasgow's Bellahouston Park and Cardiff's Ninian Park.
Benedict XVI - who, at 83, is two decades older than his predecessor when he visited - is quieter and more scholarly by comparison.
He gained a reputation as an enforcer in his previous role as John Paul II's doctrinal chief, and is as unbending as his predecessor on issues such as condoms, women priests, and priestly celibacy.
The Church
At the time of John Paul II's visit, Catholicism was still enjoying a resurgence following the reforms of the Second Vatican Council in the 1960s.
More recently, though, the Church in the UK, as elsewhere, has been mired in scandals over its handling of clerical sex abuse, and its positions on such issues as contraception, abortion, IVF treatment and stem cell research.
Although there were protests against the 1982 visit, this year the umbrella group Protest The Pope has united secular, gay, feminist and other activist groups in a co-ordinated campaign.
The visit
Weeks before John Paul II arrived in Britain, strongly Catholic Argentina invaded the Falkland Islands, and Britain dispatched a military task force to the South Atlantic.
The Pope's trip was nearly cancelled as a result, but went ahead on the basis that he would not meet Prime Minister Margaret Thatcher.
As Pope Benedict's is a state visit, he will meet Prime Minister David Cameron, who is expected to host a state banquet in his honour - though the Pope himself may not attend, to allow himself time to rest. The trip has been organised by UK bishops in conjunction with government departments.
John Paul II's trip cost around £7m (the equivalent of about £20m today). It was organised - and largely funded - by the Church, which offered free access to papal events.
Benedict XVI's trip is more governed by diplomatic protocol. The government will foot the £10m bill for non-religious elements, which has irked secularist groups.
In a nation still reeling from the global financial crisis, there has been criticism of the high cost of providing security.
Meanwhile, some Catholics have been put off by ticket prices of up to £25 for papal events. Last month, it was reported thousands of tickets were being returned.
There have also been concerns over payment of the Church's share. It is thought to have raised about £5m of an estimated £9m required so far.
Catholic figures have complained about "draconian" security measures being imposed by government officials, while questions have been asked about the Church's organising skills.
Birmingham's Cofton Park was only recently confirmed as the venue for the trip's centre-piece - the beatification of Cardinal Newman - which many, including Church officials, had assumed would happen at the much larger Coventry Airport.
The message
John Paul II's speeches during his visit were written after consultation with British clerics - including the current Archbishop of Westminster, Vincent Nichols. They were easily accessible and largely well-received.
His visit resulted in a rise in UK church attendance, which organisers put down to well-attended, high-profile events which had high-quality liturgies and a positive message that promoted Christian unity.
Vatican watchers suggest the Pope will be less concerned about crowd-pleasing on this trip than on emphasising Catholic values.
"The current Pope wants a leaner Church of true believers," said Robert Mickens, Vatican correspondent for The Tablet, a Catholic newspaper. "He doesn't feel obliged to explain anything he does."
But his 16 foreign trips as Pope have been largely successful, drawing huge crowds in New York and even Australia.
The public
When John Paul II visited, there were around 4.2m UK Catholics (almost 9% of the population) and traditional strongholds were white, Irish, working class, urban areas.
A 2009 Ipsos Mori poll suggested there were 5.2m Catholics in England and Wales; there are thought to be around 800,000 in Scotland.
This increase has been put down to an influx of immigrants from Eastern Europe, Africa and Asia, with urban churches in particular benefiting.
But polls suggest only a quarter of Catholics regularly attend Sunday Mass. Some churches have closed owing to spending cuts.
The media
Pope John Paul II visited the UK before the days of the internet, 24-hour rolling news, and budget travel. As such, he had a mystique that helped pull in the crowds.
This time wall-to-wall coverage is available of the tour, which will be live-streamed from the visit's official website.
Many may be tempted to follow the Pope's progress from the comfort of their homes, rather than braving the UK's elements for a glimpse of the Catholic leader.