'Sting cash' found on Pakistan cricketers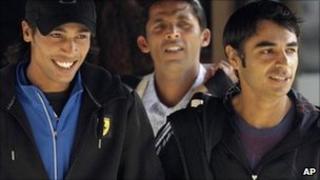 About £4,000 in cash, which had been paid to an agent as part of a newspaper sting operation, was found after the rooms of three Pakistan players suspected of spot-fixing in last week's Lord's Test were searched, the BBC understands.
The cash was recovered after the hotel rooms of captain Salman Butt, Mohammad Asif and Mohammad Amir were searched by officers from the Metropolitan Police's Economic and Specialist Crime Unit.
Although officers are understood to have found significant sums of cash in the players' hotel rooms, only £4,000 of it has been directly linked to the newspaper's investigation. It is not clear at this stage how much each of the players had.
It was said to have been identified by police by matching the serial numbers on the notes in the players' possession with those handed to the players' agent Mazhar Majeed by an undercover reporter.
Questioned under caution
Mr Majeed was secretly filmed by the News of the World apparently taking receipt of £150,000 from the journalist in return for promising to arrange for no balls to be bowled at specific moments in the fourth Test between England and Pakistan at Lord's.
Mr Amir and Mr Asif then bowled no balls at exactly the moments in the match described in the video by Mr Majeed.
Police and officers from Her Majesty's Customs and Revenue arrested Mr Majeed last Sunday on suspicion of fraud before releasing the 35-year-old from Croydon on bail.
Customs investigators also arrested a 35-year-old woman - also from Croydon and widely reported to be his wife - and a 49-year-old from Wembley.
The International Cricket Council's anti-corruption and security unit is also investigating the allegations and has already charged the three players under various offences contained in article two of its anti-corruption code.
In a separate incident, the News of the World claims a fourth Pakistan cricketer is being investigated by cricket's governing body - although that is not thought to be connected with the Lord's Test.
On Friday, the players were questioned under caution for several hours individually at Kilburn Police Station in north London before being released without charge.
Cash payments
The Pakistan High Commissioner Wajid Shamsul Hasan has repeatedly claimed he is convinced the three players are innocent.
One of the possible explanations for the large amounts of money found in the players' rooms is that they are paid their £114-a-day tour allowance by the Pakistan Cricket Board in cash.
Sources said some players had been on tour almost continuously for the last 18 months and so it was possible for them to accumulate large amounts of cash.
They added that many of them were from humble backgrounds and did not have access to bank accounts.
A spokesman for the players' lawyers Addleshaw Goddard refused to comment.