Papal visit: clerical sex abuse victims speak out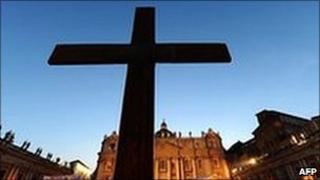 "The Church took away my childhood and I can't take that back," says Sue Cox.
Ms Cox was molested by a priest on the day before her Catholic confirmation at the age of 10 and, three years later, the same priest raped her, she told the BBC.
She told her mother, a staunch Catholic who was "priest-obsessed" and chose to ignore the episode.
That was 50 years ago. The priest in question has since died, and his order, the Sacred Heart Fathers, has paid Ms Cox £25,000 in compensation.
A lawyer for the order said: "Sue Cox raised allegations of sexual abuse... The order had no way of refuting what she said. It was 50 years ago. It took the view to pay rather than face litigation."
Ms Cox's is just one of hundreds of claims in the UK - and thousands more around the world - that have emerged in recent years, scandalising the Church. Victims in the UK hope to use next week's visit by the Pope to further highlight the issue.
Since 2001, the Vatican has considered sex abuse allegations concerning some 3,000 priests and dating back half a century.
Alcoholism and self-harm
Victims accept the Catholic Church in England and Wales has gone further than many of its counterparts overseas in tackling the abuse issue.
But Ms Cox said she has been treated condescendingly by Church officials.
She added that letters from Archbishop Vincent Nichols of Westminster, offering to pray for her, were condescending and inadequate.
After she was abused, she started to self-harm and drink alcohol, becoming an alcoholic by the age of 15. It took half a century for Ms Cox - who is now 63 and an award-winning therapist - to tell her story.
Asked why she waited so long before coming forward, she said: "I was very frightened and I locked it all away in a box in my head called 'Don't go there'.
"Now I'm standing and being counted for other victims. I want them to gain strength from it and know that they can come forward."
Cases coming to light
There has been a wave of cases in which Church authorities in Europe, Australia and North and South America failed to deal properly with priests accused of child abuse, sometimes just moving them to new parishes where more children were put at risk.
In the Irish Republic, official reports have revealed shocking levels of clerical abuse and cover-up spanning several decades.
Although most of the cases still coming to light date from the 1970s and 1980s, the world is looking to Pope Benedict to resolve the crisis.
It has bankrupted American dioceses and radically undermined the Vatican's authority.
The Pope himself has been accused of being part of a culture of secrecy, and of not taking strong enough steps against abusive priests when he had that responsibility as a cardinal in Rome.
His supporters vigorously deny this, saying he has been the most pro-active pope yet in confronting abuse.
In March, he wrote a letter apologising to Irish abuse victims.
He has promised to take "action", saying the Church must acknowledge its "sin within", and made clear that cases of abuse must be reported to the police.
This is in stark contrast to Catholic officials who have blamed the media for the way it has covered the scandal and painted the Church as a victim of a witch-hunt.
John Allen, a leading Vatican watcher and the Pope's biographer, said Benedict XVI has done much to confront the crisis.
"He became the first pope to meet sexual victims, he became the first pope to bring down the hammer on a couple of high-profile Roman priests, sending the signal that nobody is untouchable anymore, to embrace the zero-tolerance policy on sex abuse," Mr Allen told the BBC.
Meeting abuse survivors
The Pope is due to meet up to 10 abuse victims during his UK visit next week, officials have been quoted as saying.
In several of his 16 overseas trips, the Pope has met a hand-picked selection of abuse survivors, reportedly shedding tears during one such encounter in Malta.
The meetings have been held in private and only announced afterwards.
Bill Kilgallon, chairman of the National Catholic Safeguarding Commission, which handles abuse allegations in England and Wales, told the Wall Street Journal an intimate setting was preferable for victims and allowed for candour.
But victims' support group Macsas (Minister and Clergy Sexual Abuse Survivors) said this was duplicitous, as its members - none of whom have been invited to meet the Pope - want to air their grievances in public.
Anne Lawrence, a Catholic who was abused as a child, and sought help from the Church only to be sexually abused by a priest, said the Church needed to establish an inquiry and work to redress survivors' grievances.
"That is the only way the Church itself can heal," said Ms Lawrence, who is now Macsas chairwoman.
The group is holding a meeting in London on Saturday to write messages that abuse victims had hoped to present to the Pope during his visit.
This request has been turned down by the Church, which support groups say reflects the Church's refusal to publicly acknowledge abuse cases.
Global issue
As allegations of sex abuse have snowballed, many are clamouring for more action from the Church's leader.
Critics argue neither Pope Benedict nor his advisers have any idea how to stem what has now also become a public relations disaster.
Archbishop Vincent Nichols accepts that the Vatican's position leaves much be desired.
"The Vatican has got itself in a very defensive position, which probably inhibits some of the positive initiatives which we could be taking," he told The Sunday Telegraph last month.
For its part, the Catholic Church in England and Wales says it has led the way in cracking down on clerical sex abuse.
In the past decade, two independent enquiries have been held and more than 70 recommendations implemented to safeguard children and vulnerable adults.
An independent body - the National Catholic Safeguarding Commission - was established to meet, listen and work with those who have suffered abuse.
"The NCSC has been and is currently in touch with a number of individuals and groups who have suffered from abuse," said a spokesman.
Each diocese now has a safeguarding commission, allegations of abuse are published annually, and any allegation made is immediately reported to police and social services.
But Sue Cox has little faith in the new safeguards.
"I feel liberated because I am now able to speak out; I believe that secrets keep you sick," she said.
"The Church is being kept sick by its secrets, and it needs to open up."