City remembers Blitz resilience at St Paul's Cathedral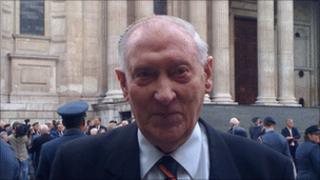 It was a strange but fitting juxtaposition between old and new.
As London commuters did their best to get to work despite a Tube strike they were presented with a symbol of a time when resilience took on a very different meaning in the city.
A World War II Spitfire, one of the RAF's iconic fighters, had been stationed outside at St Paul's Cathedral as part of the Blitz commemorations.
City workers and tourists alike snapped photos of it on their mobile phones as veterans gathered to attend a service honouring those who helped keep Britain going during the Blitz.
Some 2,500 people gathered inside St Paul's to remember the 40,000 civilians who lost their lives.
As proceedings began, Graham Knowles, the Dean of St Paul's, praised the "supreme effort" made by the thousands who had faced public transport nightmares to make it.
"You're the ones who should be thanked for fighting through London today," he said.
Some 70 years ago to the day that sentence would have resonated much more. Many present in the cathedral could remember first-hand how 9 September 1940 was the day London was hit by a bomb as the Luftwaffe began bombing civilian targets.
St Paul's was a fitting venue for the service. The cathedral survived many near-misses when the bombs were dropped on London. Graham Knowles described it as a "national icon of defiance and hope, amid conflict and uncertainty".
Richard Holdsgrove was a 17-year-old junior firefighter back then. He remembered seeing the area around the cathedral in flames.
"You could see the glow of the St Paul's cross on there," he recalled.
"It was glowing in the sky and you'd think to yourself, that's wonderful it's still standing there. Because all around it was destruction."
Before the service ended the sound of an air raid siren was played. As the crowd listened in silence it was as though a thousand memories were being played back in many of the survivors' minds.