Driving test routes no longer available online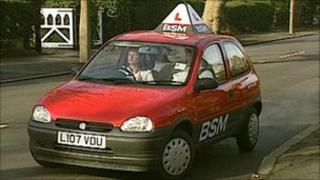 The details of driving test routes will no longer be published online by the Driving Standards Agency (DSA), Road Safety Minister Mike Penning said.
Test routes used by test centres are currently published online, but this will stop when new routes are introduced on 4 October.
The DSA wants to make the driving test "more representative of real driving".
Mr Penning said learning to drive test routes by rote would not teach people to drive "safely and independently".
He added: "Stopping the publication of test routes will help to make sure that the driving test better reflects realistic driving conditions and will give new drivers the skills and confidence they need to stay safe on the roads."
Test change
The change is being made to support the introduction of independent driving, which will test candidates on their ability to drive safely in more realistic driving situations, rather than memorising a pre-defined test route.
DSA's chief driving examiner Trevor Wedge said: "Evidence shows that the biggest challenge newly qualified drivers face after passing their test is learning how to cope when they no longer have their instructor there to help and prompt them."
"We want to make sure that new drivers and riders are ready to make their own decisions when driving alone; learning how to do that in preparation for their test should lead to better and safer drivers."
To better assess whether a learner driver is ready to drive unsupervised, independent driving will be introduced into the test in early October.
This will see candidates drive for about 10 minutes, without step-by-step direction from their examiner.
This will involve either following a series of directions, following traffic signs, or a combination of both. The remainder of the test is unchanged.