Papers' sympathy for grieving PM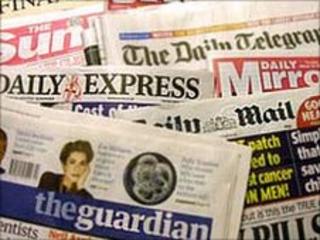 Many papers express sympathy for Prime Minister David Cameron after the death of his father following a stroke.
The Times says President Sarkozy's helicopter was used to take the prime minister to the hospital in France where Ian Cameron later died.
The Daily Mirror says he was a remarkable individual who overcame physical disability to become a successful stockbroker.
Echoing Mr Cameron's description of his father, the Sun says he was a "hero".
The Financial Times reports the backlash from contractors against BP's report into the causes of the Gulf of Mexico oil spill.
The Guardian concludes BP has tried to write a version of history in which it is blamed as little as possible.
But the Daily Express adopts a different stance altogether.
It believes the report shows that President Obama's criticisms of BP were "shameless buck-passing" showing high handedness and "contempt for Britain".
The Guardian reports that 12 American soldiers face trial for forming a secret killing team that allegedly blew up and shot Afghan civilians for sport.
At least one of the soldiers is said to have collected the fingers of victims as souvenirs, while others allegedly posed for photographs by the corpses.
And the Sun reports that a 45-year-old Briton died trying to save his drowning father during a holiday in Spain.
Jonathan Wells and his father, Robert, both perished in "ferocious waves".
Canadian singer Justin Bieber is hailed as "inescapable" by the Independent, which marvels at his internet ubiquity.
It reports that Google has been "consumed by 'Bieber fever'" and, at peak times, he "is mentioned 60 times every second" on Twitter.
And the Times has a report about the dish that is setting gastronomic pulses racing in Paris - fish and chips.
The popularity of the meal is said to be part of a fashion for working class foods amongst the French elite.