Archbishop of Canterbury joins 'Koran burning' critics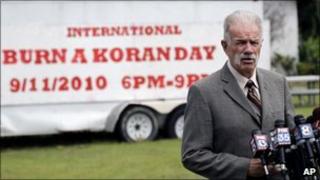 The Archbishop of Canterbury has joined UK politicians and Muslim groups in condemning plans by a small US church to burn the Koran on 9/11.
In an Eid greeting to Muslims, Dr Rowan Williams said there was "no place... for violent response".
The US pastor later announced that he had cancelled his protest.
He claimed the group behind a planned Islamic centre near Ground Zero in New York had agreed to relocate it, but the group denied this.
A spokesman for the site developer said: "The Muslim Community Center called Park51 in Lower Manhattan is not being moved."
Downing Street had earlier also joined a chorus of international criticism about the Koran-burning plan, condemning any bid to offend a religious group.
Ex-Prime Minister Tony Blair urged people to read the Koran, not burn it.
Pastor Terry Jones, who leads a congregation of 50 followers in the city of Gainesville, Florida, said burning copies of the book on the anniversary of the 9/11 attacks was a way of standing up to terrorism.
His plans drew condemnation from the Vatican, Nato and Pakistan.
Cabinet minister Sir George Young branded the pastor "a stupid bigot", to cheers from MPs in the Commons.
Dr Williams was sending annual greetings to Muslim communities for the festival of Eid al-Fitr - marking the end of Ramadan - when he cited examples of positive Christian-Muslim encounters, including collaborative relief work in response to the recent flooding in Pakistan.
Acknowledging the threat from the US to "desecrate scriptures", he said: "These are challenges that we must respond to with a consistent message - that we oppose collectively all such provocations and insist that there is no place in our traditions for violent response."
"Our religious communities face many challenges and many provocations," he said.
"In this country there are those who speak maliciously about religion in general and often against Islam in particular; demonstrations in many of our cities are intended to provoke; and in other parts of the world the threat to desecrate scriptures is deeply deplorable and to be strongly condemned by all people," he said.
'Disrespectful'
Earlier, Foreign Secretary William Hague said a Koran-burning ceremony would be selfish and provocative.
And US President Barack Obama said the plans were a "recruitment bonanza" for al-Qaeda.
Prime Minister David Cameron's spokesman said: "Primarily this is an issue for the US, but clearly the government's view is that we would not condone the burning of any book.
"We would strongly oppose any attempt to offend any member of any religious or ethnic group. We are committed to religious tolerance."
In a statement, Mr Blair, who established the Faith Foundation after leaving office, said: "I deplore the act of burning the Koran.
"It is disrespectful, wrong and will be widely condemned by people of all faiths and none. Those who wish to cause religious conflict are small in number but often manage to dominate the headlines."
Mr Hague said burning the Koran would not only be offensive to Muslims but to all supporters of religious freedom and tolerance worldwide.
He said: "Eid is a time of celebration, charitable giving and family gathering. To seek to mar it in this calculated way would be selfish and provocative in the extreme.
"We hope that the individuals involved will reconsider and refrain from carrying out this act."
Muslims consider the Koran the sacred word of God and consider any intentional damage or show of disrespect towards it as deeply offensive.
During a debate in Strasbourg, Conservative Muslim MEP Sajjad Karim said: "The extreme act of Koran burning is the act of one man and his followers alone.
"His actions should not be identified with the West or Christianity.
"Muslims globally must know that through this Koran burning, this man will achieve nothing.
"He has been isolated in his country and his religion. It is only through a reaction that any perverse sense of achievement can be earned."
Muslim group Minhaj ul-Quran told the BBC the pastor's plans were a setback to efforts for world peace and a "big blow to humanity at large".
The group's leader, Dr Muhammad Tahir ul-Qadri, has written to President Obama urging him to intervene to stop copies of the Koran being burned at any cost.
The Three Faiths Forum, which aims to encourage understanding among Muslims, Christians and Jews in the UK, said the pastor had offended 1.5 billion Muslims around the world.
"This act is based on fear and ignorance. I don't know how many Muslims there are in Gainesville but I'm sure the pastor has never engaged with a Muslim.
"He should get out more," said the forum's director, Stephen Shashoua.
Secretary General of the Muslim Council of Britain, Farooq Murad, said: "Such an action plays into the hands of extremists everywhere, we would do well to repudiate their message of hate by looking to the higher humanitarian principles that exist in the Koran."