Yury Fedotov warns of UK-Russian 'irritants'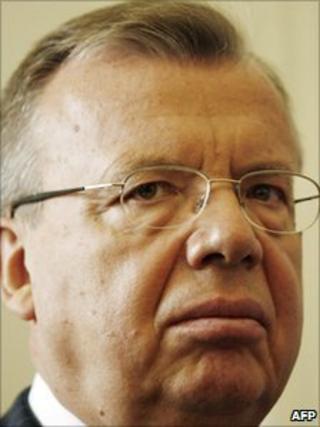 Russia's outgoing ambassador to London has warned that "irritants" in UK-Russian relations remain "a minefield that could explode at any time".
Ambassador Yury Fedotov said that Moscow was "prepared to do everything" to repair relations with Britain, following the fallout over the Litvinenko poisoning case three years ago. But he insisted the ball was in Britain's court.
The door into the library in the Russian Ambassador's residence in London is cunningly hidden in the heavy black carved panelling of the hall. "As befits an English country house," said Yury Fedotov, as he ushered me in for his final interview before he leaves London to start his new job as the UN's drug czar after five rocky years.
When he took up his post in 2005, Mr Fedotov said the British prime minister and Russian president were cooperating closely, meeting regularly, sometimes as often as once a month.
But by the summer of 2007 tensions over the Litvinenko poisoning case had erupted into a full-blown row.
It led to a tit-for-tat expulsion of diplomats, a freeze on intelligence cooperation and a virtual breakdown in UK-Russian political relations.
Three years on, as Mr Fedotov prepares to leave, he's encouraged by signs of a thaw.
"There are positive dynamics," he said.
Statements by the new foreign secretary, William Hague, suggested the UK wanted to "open a new page" in relations with Russia. Visits by Mr Hague to Moscow and the Russian Foreign Minister Sergei Lavrov to London are in the pipeline. "And the logic of this political trend will move us towards a summit meeting at the top political level."
This does not mean the row has disappeared.
Britain still wants the Russian government to extradite the main suspect in the Litvinenko case, the former KGB officer and now Russian MP, Andrei Lugovoi.
Russia still insists its constitution prevents it from extraditing a citizen to stand trial anywhere else.
Moreover, Russia has a long list of its own requests for extradition.
Mr Fedotov revealed he had a list of 43 people in Britain wanted for crimes in Russia, some of them émigrés with a political reputation for criticising the Russian government, but also what he called "common criminals wanted for drug dealing, hijacking and money laundering".
Overall though, Mr Fedotov said the "irritants" that had burdened relations were no longer a bar.
"They are kind of put into mental square brackets. We know they are there but they are not irritating us as much as they did two or three years ago.
"We should not overblow the importance of such incidents. We need to think strategically. That is the difference between what we have now and what we had during the Cold War. We are not in opposing trenches. We face the same challenges and threats."
The way Mr Fedotov describes it, Russia has been making all the running.
He said the Russian government had offered Britain a "zero" option, to reset the clock back to before 2007, but this had been turned down by the British government.
'Minefield' of disagreements
He said Russia then offered a step-by-step approach, to solve each problem one by one. But it was up to Britain to make the next move.
"The ball is not in our court. We are prepared to do anything. We cannot extradite Russian citizens but we are prepared to consider any other option, including a trial in Russia with the participation of the British side."
That is not a new offer.
And the idea of entrusting the trial of such an important murder case to a Russian courtroom and a Russian judge, even if British lawyers were involved, is not something that so far the British government has been prepared to contemplate.
So Mr Fedotov's parting shot was a warning - that left unresolved, disagreements remained a threat to better relations.
"They're like a minefield - they can explode at any time."