Q&A: Policing cuts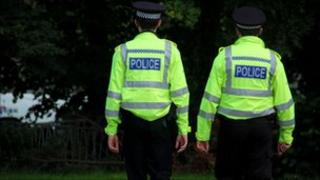 Up to 40,000 front-line police jobs across England and Wales will be at risk if the government's 25% cuts go ahead, the Police Federation has said.
Q: What is the current strength of the police?
Officially, there are almost 144,000 police officers across the 43 forces - a record level which is continuing after a decade of growth.
Those warranted officers are supported by 80,000 non-police staff in stations, conducting back-office functions and other duties.
The former Labour government also created some 17,000 police community support officers, who patrol the streets.
Finally, there are about 15,000 special constables who work voluntarily, providing additional resources for the police, such as at major public events.
Q: What do all these officers do?
There are 220 top officers across the forces, meaning the chief constables and their senior management. There are almost 108,000 constables available for duty and a further 23,000 sergeants.
In recent years the job has changed quite significantly, with more officers moving out of beat patrol roles and into specialist units, such as crime scene investigation and domestic violence.
Q: So what do we know so far about cuts?
Every force in the country is preparing itself for a hit - although there are concerns in Whitehall that some forces are not doing enough.
The annual policing bill runs to about £14bn and most of the costs are in staffing levels.
Some details have already emerged. West Mercia Police says it will lose almost 300 posts, a third of them officers.
Birmingham MP Stephen McCabe told Parliament this week that West Midlands is looking to lose 2,000 of its 14,000 posts.
Essex Chief Constable Jim Barker-McCardle has said his force faces a "daunting" challenge of having to deal with potential cuts of £45m.
Q: What's the view from outside the forces?
In July, thee national spending watchdogs, including the Chief Inspector of Constabulary, issued linked reports on value for money in policing. They concluded that forces could save up to £1bn.
They said that cuts, equivalent to about 12% of what central government gives forces (the balance largely comes via Council Tax), would not be easy to find and that savings beyond that would lead to cuts in "police availability".
Tim Brain, the recently retired Chief Constable of Gloucestershire and former national spokesman on police finance, has calculated that a cut of 40% (the government's worst-case scenario) could mean the loss of 60,000 posts - about a quarter of total officer and staff manpower.
Q: Can that be done without damaging policing?
Chief constables are looking at this differently. They are taking stark numbers like those produced by Tim Brain and debating what they can do to avoid damage. That debate comes down to three key issues: reform of working practices, collaboration and rethinking policing itself.
Collaboration is the simplest to understand. Most experts think that England and Wales shouldn't have 43 forces - but people like the local connection of a force called Derbyshire or Nottinghamshire, rather than the anonymity of something that could be called "The East Midlands Police Service".
So while mergers are politically difficult, collaboration is financially effective. Expect more forces to share more resources in expensive areas such as helicopters - but also other functions, such as funding custody suites, major crime teams and procurement.
The Audit Commission says forces could also save £240m through central buying of everything from paper clips to police cars - but that does not sit easily with the autonomy and local accountability of chief constables.
Q: What about the other two areas?
Chief constables want to reform shift patterns and overtime payments but face an enormous battle with the rank-and-file. Earlier in the summer there were reports that the Association of Chief Police Officers had calculated that front-line jobs could be saved by cutting 450m from overtime and other pay practices.
A lot of officers rely on those payments and will be unwilling to give them up lightly. An example of how this becomes expensive might be: There is little crime on a Monday morning - but lots on a Friday night. Officers patrol on Mondays, because the public like it, but then earn overtime for those "kebab-van patrols" on the weekend.
But chief constables are also already looking at a radical rethinking of how police operate. Police civilian staff could take on more functions from constables that are currently reserved for warranted offices.
Q: What about specialist units?
The public likes visible policing but most officers believe that specialist units, such as domestic violence teams, deliver more results.
But that is very different from the public reassurance role of the beat. So will forces cut specialist teams, which are less visible, because the public wants patrols?
Figures compiled by the Police Federation, which represents rank-and-file officers, show that chiefs are already thinking down these lines. Some forces are considering cutting or merging domestic violence units. Nottinghamshire is among those looking at ending its specialist robbery team. Many forces may cut dog units, which play a valuable role in searches for evidence, criminals and, of course, missing children.
This all poses a very difficult question about how the police and politicians define the front line. The police are an emergency service and people want an officer to respond to a 999 call. But police themselves say the evidence is clear that they deal with more crime if they are more than just a 999 service racing from emergency to emergency.
Q: Beyond managing cuts, does the government have plans for other reforms?
Yes - and they are quite significant. The Conservatives have pledged to introduce directly-elected police commissioners from next May. These are officials who will set priorities for a chief constable and hold him and the force to account.
Many senior officers are very concerned about how these commissioners will work in practice because they fear that policing may become subject to political priorities - and the politics will become difficult in an era of cuts.
The government also says it will reform the approach to organised crime and immigration with a National Crime Agency. Ministers have also talked about creating a police reserve, although it's not clear what that means.