Concern over police jobs threat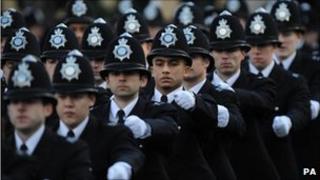 Police forces in Wales are warning of tough times ahead amid fears over job cuts in front-line roles.
Some 40,000 such jobs would be at risk across Wales and England if expected 25% budget cuts go ahead, said the Police Federation.
The body, which represents Welsh and English officers, said policing as it is now would be unsustainable.
More detail about cuts will be known after the UK Government's current spending review in October.
A Gwent Police spokesperson said: "It is too early at this stage to speculate about how much of the public spending cuts will be passed on to Gwent Police, we are awaiting confirmation next month.
"Only one thing is certain, that there are tough times ahead.
"Our chief officers will do everything in their capability to maintain levels of front-line policing, and identify further opportunities for efficiency savings through collaboration projects with partners."
South Wales Police said it was also awaiting the spending review, but in the meantime it would continue its project to look at options for making the force more efficient.
Deputy Chief Constable Colette Paul said: "Sadly, none of our staff will be immune to job cuts, and staff welfare is paramount.
"It's my unwavering priority for the force to keep any job losses as a result of the announced cuts to a minimum.
"It is the firmly held view that every penny saved through process and procedural efficiencies, which could in turn have an impact upon how the service is to be delivered, could help achieve this and could determine changes to the police estate.
"I firmly believe those staff doing a particular job are best placed to bring about real changes that make a positive difference and improve what we do and I will be involving as many staff as possible to play their active part."
'Avoid scaremongering'
A suggestion scheme about how the force could save more money had more than 50 contributions on its first day, she added.
The cut to the police budget in Wales and England is expected to be 25% but the exact level will not be known until the spending review is published.
The Police Federation said it was inevitable crime would go up if severe cuts were made.
Policing and Criminal Justice Minister Nick Herbert has called on the Police Federation to avoid scaremongering.
Mr Herbert said the Police Federation was simply speculating at this stage.
He said there would have to be savings, but very large sums of money would still be made available to policing.
Savings
North Wales Police chief constable Mark Polin has already said he would do all he could to protect essential services.
But he said he could not rule out cuts to the number of officers on the beat in the current financial climate.
Ian Arundale, chief constable of Dyfed-Powys Police, warned last month his force must find savings of £34m between now and 2015, and £13m in each subsequent year.
He said he was not scaremongering by saying up to 300 posts were at risk, including bobbies on the beat.
The Police Federation's new 40,000 figure applies only to front-line policemen and women.