MPs 'held back' on inquiry into phone-hacking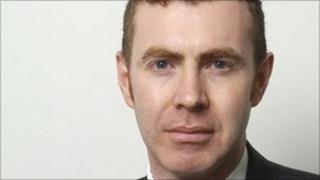 MPs held back in an inquiry into phone-hacking allegations for fear that their own private lives could be targeted, a former MP has claimed.
The allegation was made by Adam Price, a former member of the Commons Culture, Media and Sport Committee, who stood down as a Plaid Cymru MP in May.
He told Channel Four News they decided not to force bosses of the News of the World newspaper to attend hearings.
The chairman of the committee has rejected Mr Price's claim.
John Whittingdale told the BBC there was no truth in the claim that the committee "backed off or were soft" on senior managers at the New of the World's owners, News International.
"I entirely reject any suggestion that the committee backed off or were soft on News International [the publishers of the News of the World]," he said.
Mr Whittingdale added that while the issue of possible "repercussions for members' personal lives" was discussed by the committee, it had no ultimate bearing.
Mr Price's comments follow a decision by the House of Commons Standards and Privileges Committee to launch a fresh inquiry into the unauthorised hacking of mobile phones.
The committee will probe new claims - published in the New York Times - that the then editor of the News of the World, Andy Coulson, "actively encouraged" his journalists to hack into the mobile phone voice mail messages of public figures.
Mr Coulson, who is now head of communications at Downing Street, has denied the allegations.
Metropolitian Police Assistant Commissioner John Yates has said he might talk to Mr Coulson, but only after interviewing a former News of the World reporter who made the allegations in the New York Times.
Mr Price said it was "regrettable" that the culture committee had not been tougher last year. He said it had been wrong not to force News International chief executive Rebekah Brooks to attend a hearing.
He added that he hoped the standards committee would "stand firm where we didn't".
Mr Price said the culture committee should have used "the nuclear option" and forced Mrs Brooks to attend.
Under parliamentary rules, MPs can compel witnesses to attend committee hearings - but they have rarely exercised that power.
'Deadly embrace'
But former Press Complaints Commission chairman Sir Christopher Meyer questioned whether it was right for MPs to investigate journalists at all.
He said: "They live together in a deadly embrace and I really have to ask whether MPs shouldn't recuse themselves from passing judgment on journalism simply because the interests are so conflicted.
"It is essentially down to the police, down to the News of the World and can they please get a move on. We do not need parliamentary inquiries or royal commissions to dig into this."
A News International spokesman said that three of its executives appeared before the culture committee, and that "the company co-operated extensively with its investigations".