9/11 anniversary dominates newspapers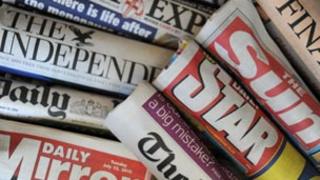 On the ninth anniversary of 9/11, many papers consider whether an anti-Muslim sentiment has burst on the scene.
The Independent says the familiar ritual of remembrance may be drowned out by the roar of maddening squabbles around the threat to burn the Koran.
"Burning Hatred," declares the Daily Mirror, which sees the stand-off as a symptom of a wider disease "gnawing away at democracy".
It says the far-right is gaining ground across the US in an alarming trend.
Pope visit
Meanwhile, the Daily Express reports the threat to burn the Koran is sparking world riots.
Attitudes towards the Roman Catholic Church are another topic for discussion as the papers look ahead to Pope Benedict's visit to Britain.
The Guardian warns he will be greeted by atheists, activists and apathy - quite unlike the rapturous reception for Pope John Paul in 1982.
The Financial Times blames the scandal of the sexual abuse of children at Catholic schools and institutions.
Spending cuts
But Charles Moore in the Daily Telegraph urges people to give the Pope a fair hearing.
The Times leads with the prime minister's poverty adviser, Frank Field, recommending the school year be broken into four or five terms.
He believes poorer children fall behind during long holidays - because they are not read to or tutored at home.
Meanwhile the Sun appeals to its readers not to "wobble" in the face of public spending cuts.
Christmas countdown
The Daily Mail reports that the family of murdered MI6 spy Gareth Williams have demanded his body back.
It says they are running out of patience with the police investigation and want to commission their own post-mortem examination.
Finally the Telegraph and the Mail ask if Christmas has arrived too early.
They report that mince pies, Christmas puddings and chocolate Santas have already gone on sale at some supermarkets.