Mother of 9/11 victim attacks Koran threat pastor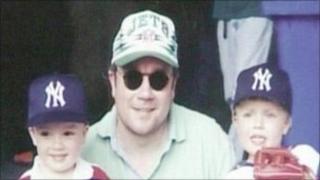 The mother of a British victim of 9/11 has criticised an American pastor who threatened to burn copies of the Koran.
Terry Jones, of the Dove World Outreach Center in Florida, has now suspended plans to burn Islam's holy book on the ninth anniversary of the attacks.
But Patricia Bingley, whose son Kevin Dennis died during 9/11, said the pastor had added to their burden.
At a ceremony in London, 67 roses - one for each British victim - were laid at a memorial in Grosvenor Square.
Mr Jones' threat sparked protests across the Muslim world.
He had planned to stage an International Burn a Koran Day, saying the book was "evil".
Mrs Bingley, from Essex, told BBC News: "We have enough burden to bear without having to listen to this crank, as I call him, threatening to burn a very sacred book belonging to the Islamic community.
"To me the repercussions if this act was to take place would reverberate right the way through the Muslim world."
The Koran threat has coincided with controversy over plans to build an Islamic centre near Ground Zero in New York.
Mrs Bingley said: "I am just as much against that [the Koran burning] as I am against having a mosque built next to the site because that's my son's grave - I don't have any other grave.
"I think it's disrespectful to build a mosque just there."
But Alex Clarke, whose British daughter Suria died in the attack, disagreed.
Mrs Clarke said of the proposed Islamic centre: "It does not make me uncomfortable at all. It has been hijacked by politicians.
"The quiet, sensible views have not been heard - it's just the people screaming the loudest."
Of the proposed book-burning, she added: "It is an appalling thing to do. Nobody should burn books, especially the Koran."
On each anniversary of the attacks Mrs Bingley visits the memorial to British victims of the 9/11 attacks in Grosvenor Square, London, where she touches the engraving of her son's name.
Mr Dennis, a stockbroker, was on the 101st floor of the World Trade Center when it was hit by American Airlines flight 11.
Recalling the day of the attacks, Mrs Bingley said: "I was watching TV when the tower came on with smoke coming out.
"Then all of a sudden I heard this voice say, 'Good God, there is another plane coming.
"I tried to phone my son in his office and all I got was this high-pitched buzz."
Meanwhile, a spokesman for the Ahmadiyya Muslim Community in London said moving the site of the Islamic centre could encourage further threats.
Speaking from Baitul Futuh Mosque, in Morden, south-west London, where an estimated 15,000 Muslims had gathered for prayers, Fareed Ahmadsaid: "It's important not to cave in to people like this.
"Any threats to burn a scripture are deeply hurtful to Muslims everywhere.
"It's something that is not condoned by any faith. If it did happen, it would be a very sad day for America and it would be very concerning for all faiths.
"We would be opening the door for other people to make threats against all faiths if we allowed him to succeed."
Four airliners were hijacked during the attacks in 2001, which claimed 2,975 lives.
Two planes were flown into the towers of New York's World Trade Center and one into the Pentagon, while the fourth crashed into a field in Pennsylvania.
The anniversary was marked in London at 0900 BST with a private wreath-laying at the Grosvenor Square memorial for families of those who died.
A senior civil service official placed 67 roses - one for each of the British victims of the September 11 attacks.
The flowers carried a hand-written message from Prime Minister David Cameron, which read: "In memory of the victims of terrorism in the USA on 11 September 2001. They will never be forgotten."
In New York a ceremony will be held at which the names of all the people killed will be read out.