Army rules on handling detainees 'need strengthening'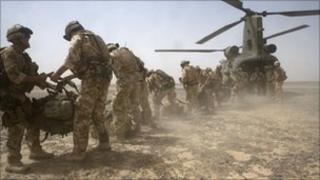 British Army procedures for handling detainees in Afghanistan and other areas of operation overseas still need to be strengthened, an official report has warned.
The Army inspector said more needed to be done to ensure all troops had the skills to deal with prisoners.
Brig Robert Purdy said it was about improving a system that now worked, rather than mending a broken one.
Armed Forces Minister Nick Harvey said the recommendations would be followed.
'Attitude change'
Brig Purdy said there had been major changes to the handling of detainees since the Aitken Report two years ago into the alleged abuse of prisoners in Iraq.
He said British commanders in Afghanistan were now "clearly focused" on the issue.
Where Brig Purdy was critical was his conclusion that there remained a tendency by some soldiers to consider the handling of detainees as solely a matter for specialists, rather than for all troops deployed on operations.
The report said: "Recognition of the need for generic detainee handling skills to be embedded in the instinctive behaviour of every service person operating in the contemporary and future land environment has yet to be translated into reality."
It added: "Leadership at all levels will be needed to drive through real attitudinal change, and really to deliver this 'mainstreaming' of the ethos and skills of detainee handling."
His report also found that British troops still had "uncertainty" over how they should deal with apparent mistreatment of prisoners by Afghan forces, and how they should handle children.
Overall, Brig Purdy said the Ministry of Defence needed to set up a "clear and effective higher level governance structure", setting out how individuals would be held to account for their treatment of detainees.
Mr Harvey said the Ministry of Defence would implement the report's recommendations "as quickly as we can".
General Sir David Richards, who as head of the Army ordered the review, also confirmed that the report's guidelines would be followed.
However, he said that if extra resources were needed, they would have to be considered "in the context of competing priorities in the present demanding resource environment".