Watchdog warns over fire service disruption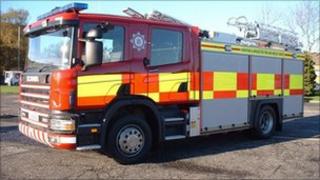 Fire services in England hit by strike action or a flu pandemic would struggle to cope with a major emergency, such as a natural disaster or a terror attack, a spending watchdog has warned.
An Audit Commission study of England's 46 fire authorities found the safety of the public would be at greater risk.
It looked at circumstances such as power failures and industrial action.
It found fewer than one third of services could guarantee specialist equipment in such situations.
Commission chairman Michael O'Higgins said it was reassuring that most areas had "robust plans" in place to cope with the loss of staff.
But he added: "Of concern, though, is that public safety may be at risk if major disruption occurs across several fire and rescue authorities and lasts for a long time.
'Demands on resources'
"In these circumstances we also discovered that specialist equipment designed to deal with the aftermath of terror attacks or major natural disasters is less likely to be deployable because of demands on firefighter resources."
The report noted that fire services cannot rely on the back-up of the military during times of crisis.
Forces personnel are already heavily committed overseas and the old "Green Goddess" fire engines have been sold off.
The commission's study included fire services ranging from the Isles of Scilly, which employs 39 staff, to the 7,000-strong London Fire Brigade.
Fire and rescue teams across the UK are facing budget cuts, like all local services.
A recent poll by the Fire Brigades Union suggested that nine out of 10 people wanted the number of front-line firefighters to stay the same or be increased.