Big increase in brewery numbers in UK, says Camra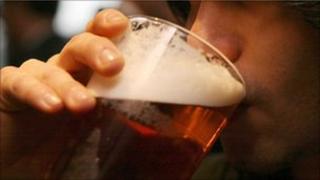 The number of breweries in the UK has increased four-fold over the past 30 years, campaigners have said.
The Campaign for Real Ale (Camra) said there were now 767 breweries operating across the country.
The group's new Good Beer Guide reported that 78 new breweries opened last year, a net increase of 56 after others had closed down.
Many were small-scale micro-breweries, which Camra said were responding to demands for "taste and quality".
'Mushrooms at dawn'
Good Beer Guide editor Roger Protz said: "The real ale revolution goes on in spite of all the problems facing the brewing industry such as the often anti-competitive behaviour of the large pub companies, the heavy and continuing rise in tax on beer, grossly unfair competition from supermarkets, and the smoking ban in pubs.
"Yet, against all the odds, craft breweries continue to sprout like mushrooms at dawn. The main reason is a simple one - craft brewers are responding to genuine consumer demand.
"Beer in pubs may be expensive compared to cheap supermarkets but drinkers are prepared to pay a bit extra for beer with taste and quality."
BBC business reporter Brian Milligan says the real ale industry was once the preserve of a certain kind of male - but now women and younger people are choosing to drink the brew as well.
Together with tax breaks announced by Gordon Brown as chancellor eight years ago, this has boosted the number of micro-breweries - often these are based in little more than a shed or a pub back garden.
But with overall beer sales declining, 40 larger breweries have closed since 1997.
Camra also published its list of the top 16 pubs in Britain, which included the Dove in Bury St Edmunds and the Brewery Tap in Chester.