Newspaper review: Papers anticipate Pope's arrival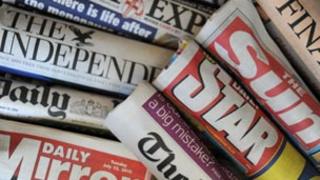 The Guardian says the Pope's UK visit has become "mired in controversy".
It comes after one of his senior aides compared arriving in multi-cultural UK to landing in a Third World country.
The Times says the remarks by 77-year-old Cardinal Walter Kasper left the Vatican scrambling to contain a public relations embarrassment.
The Sun and the Daily Mirror describe Cardinal Kasper as "the Pope's Dope".
But the Daily Mail insists Pope Benedict is "an honoured guest".
Hate campaign
"What an unholy welcome to Britain!", declares the paper's front page.
The paper accuses Stephen Fry of leading a celebrity "atheist hate campaign".
However, it concedes the Pope's conscription into the Hitler Youth when he was 14 has given his critics "a cheap brickbat to hurl at him".
The Daily Telegraph believes Pope Benedict's visit is a good thing for Britons of all beliefs, and the paper urges tolerance and hospitality.
Lion's den
The governor of the Bank of England gets plaudits from several papers for stepping into the lion's den by addressing the TUC.
The Sun praises Mervyn King for his "nerve".
The Daily Express says he spelled out some inconvenient economic truths to his audience.
The Financial Times says Mr King's remarks added up to an uncompromising re-statement of support for the coalition government's austerity plans.
Betting claims
The Independent reports that football authorities in Bahrain have been left red-faced following a friendly international match against Togo.
During an easy 3-0 win for Bahrain, the Togo team showed no idea of tactics or organisation and faded badly.
The Togo authorities say they have no knowledge of any match, prompting speculation the team was a fake one made up of amateurs.
The Daily Telegraph says there are claims of a global betting fraud.