Pope offers hand of friendship in Westminster address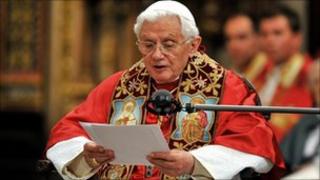 In three separate speeches in central London, Pope Benedict XVI has put a positive spin on his four-day state visit to Britain.
At Lambeth Palace he dispelled fears that four decades of talks between the Anglican and Catholic churches to try to re-establish the unity that was broken at the time of the Reformation, had stumbled.
In Westminster Hall he gave fulsome praise for the achievements of British democracy and for the way Britain conducts its affairs both nationally and internationally.
And in Westminster Abbey he walked in procession down the main nave side-by-side with the Archbishop of Canterbury, whom he treated with great courtesy, as an equal, not as a competitor.
'Common heritage'
With clouds of incense rising in the background, the Pope and the archbishop prayed together at the grave and shrine of Edward the Confessor, the Medieval English king who is a saint for both Anglicans and Catholics.
In these three highly symbolic visits, the Pope paid tribute to those quintessentially English contributions to society - English common law, the parliamentary system of government, and "a national instinct for moderation".
Catholic social teaching, the Pope said, has much in common with this approach with its emphasis on the duty of civil authority to foster the common good.
And the Pope went on to show great respect for the traditions of Anglicanism when he recalled that the Coronation Abbey church is, in fact, dedicated to St Peter - the first pope.
"The Abbey's architecture and history speak so eloquently of our common heritage of faith," the Pope said.
"Here too we are forcibly reminded that what we share in Christ is greater than what continues to divide us."
Funding praise
However, that didn't stop the pontiff - in Westminster Hall, before the assembled great and good of the British political establishment - from expressing his concern at "the increasing marginalisation of religion" that's taking place in some quarters, "even in nations [like Britain] that place a great emphasis on tolerance".
"There are those who would advocate that the voice of religion be silenced or at least relegated to the purely private sphere," Pope Benedict said.
He also implicitly criticised Catholic politicians who occupy public office and who act against their conscience, a veiled reference to those who support legal abortion.
The Pope praised the British government for maintaining its commitments to international development aid.
The world has witnessed the vast resources that governments can draw upon to rescue financial institutions deemed "too big to fail" the Pope said.
"Surely", he added, "the integral human development of the world's peoples in no less important. Here is an enterprise worthy of the world's attention that is truly 'too big to fail'".
Faith and state
In his London speeches, the Pope has asked some very leading questions. What is the proper role of religion within the political process? What is democracy all about?
These are basic ethical questions which affect the lives of everyone in a politically and religiously divided world, which also shows increasing and potentially dangerous tendencies towards religious and political fundamentalism.
The Pope's answer was a rebuff to those who have been arguing that he has no right to meddle in Britain's internal affairs or to be laying down religious edicts that his opponents believe are irrelevant to modern society.
"There must be no facile accommodation to the spirit of the age," he said.
In London, Pope Benedict has held out a hand of friendship to Britain, ignoring the protests and complaints about the high costs that his visit has entailed, and that have tended to dominate news about his visit in recent weeks.
Centuries of "no Popery!" cannot be dispelled overnight, but Pope Benedict's wide ranging agenda demonstrates that he has done his homework and understands the symbols of Church and state in Westminster very well indeed.