Pope's visit still making headlines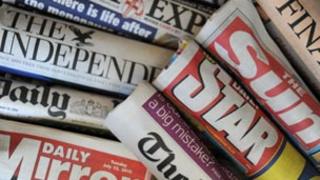 Pope Benedict's historic visit to the UK continues to dominate the front pages.
The Daily Mail says his Westminster Hall speech is a "battle to save Christmas" from suggestions such public celebrations should be discouraged.
The paper, in its editorial, believes Pope Benedict has given Britain a lesson in candour.
The Daily Telegraph mentions the Pope's "aggressive secularism" phrase - a fight back by Christian leaders wanting to put religion at society's centre, it says.
The Daily Mirror reports on an alleged plan to put bombs in rubbish bins in Westminster and blow up the Pope.
The Guardian says six men arrested in connection with the alleged threat were apprehended after some of their conversations were overhead.
Conference call
The Financial Times turns its attention to defence matters.
It carries reports of a rift between Defence Secretary Liam Fox and Army chiefs over his policy plans, just weeks from the Spending Review.
A large, contemplative picture of Nick Clegg peers from the front of the Independent newspaper.
It carries an interview with the Liberal Democrat leader before the start of his party's conference.
He tells the paper there is no future for the Lib Dems as a left-wing alternative to Labour.
The Sun also has its first face-to-face interview with Nick Clegg. He says that people would be "inhuman" if they were not concerned about the spending cuts.
Left angry
The Times says lab research, carried out at Birmingham University, suggests taking the anti-depressant Prozac reverses pre-menstrual tension.
A low dose of the drug could be given to women for just a few days during the fertility cycle, researchers say.
The Mail has the story of how left-handed people are more likely to be more angry.
Researchers at Merrimack College in Massachusetts say the way their brains work means they are more moody.