Pope calls on Catholics to make 'reparation' for abuse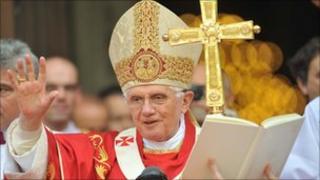 The Pope has urged Catholics to "make reparations" for the sexual abuse of children by priests, by helping abused children in the wider community.
The pontiff was speaking to Catholic bishops of England, Scotland and Wales at St Mary's College, Oscott, on the final day of his state visit to the UK.
He said abuse "seriously undermines the moral credibility" of the church.
Earlier more than 50,000 witnessed the Pope's beatification of 19th Century theologian Cardinal John Henry Newman.
In his speech to the bishops. the pontiff said the British Catholic Church could share the lessons it had learned about child abuse with society at large.
Pope Benedict said in the college's chapel that abuse of children by priests "seriously undermines the moral credibility of church leaders".
He went on: "I have spoken on many occasions of the deep wounds that such behaviour causes, in the victims first and foremost, but also in the relationships and trust that should exist between priests and people."
The pontiff continued: "Your growing awareness of the extent of child abuse in society should serve as an incentive to share the lessons you have learned with the wider community.
"Indeed, what better way could there be of making reparation for these sins than by reaching out, in a humble spirit of compassion, towards children who continue to suffer abuse elsewhere?"
On Saturday the Pope voiced "deep sorrow and shame" over the scandal after meeting five clerical sex abuse victims.
Recession 'cast shadow'
Pope Benedict also referred to the recent recession in his speech to the college.
The pontiff said hardship caused by the meltdown had "cast a shadow over many people's lives".
He added: "In the course of my visit it has become clear how there is a thirst among the British people for the gospel of Jesus Christ."
But BBC Religious Affairs Correspondent Robert Piggot said the large size of the college - and the fact it is struggling to fill its courses with would-be priests - was symptomatic of the problem English Catholicism faces.
He said: "This is a huge building, designed for hundreds - with only 30 in it.
"It's very difficult to find young men to come into the priesthood.
"It is a real problem for the church."