CPS pays out for sex assault case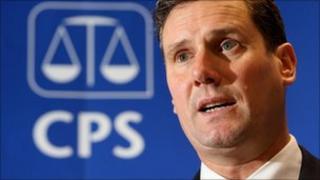 The Crown Prosecution Service has agreed to pay compensation to a woman over its failings in dealing with an allegation of a serious sexual assault.
The case collapsed and the CPS admitted the man accused should have faced a retrial. The woman, who says she was attacked in London, will get £16,000.
Director of Public Prosecutions for England and Wales Keir Starmer has issued a personal apology to the woman.
The CPS also admitted it breached her human rights.
Left suicidal
In a statement, Mr Starmer said he was "very sorry for the distress these failings have caused the complainant. I am determined this will not happen again".
The woman, who for legal reasons is known only as Josephine, was diagnosed with post traumatic stress disorder and was left suicidal by the ordeal.
She had been assured that when her case got to court she would be able to give evidence from behind a screen.
But on the day of the trial she was told there would be no screen and said she was "petrified" to face the accused man in court.
While in the witness box, she inadvertently let slip something about the man's history, which stopped the trial.
She says prosecutors then blamed her for the collapse of the case.
"If you put your faith in the system, and then it falls apart that is bad enough but then to be blamed for it, it just leaves you feeling completely worthless that nobody cares," she said.
The Crown Prosecution Service has now admitted the man should have faced a retrial rather than being acquitted, and it has paid Josephine damages.