How does 'graduated driver licensing' work overseas?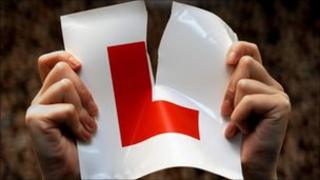 Newly qualified young drivers are subject to certain restrictions in Australia, New Zealand and parts of the US. So how does "graduate driver licensing" work?
Cardiff University researchers are calling for young motorists in the UK who have recently passed their driving tests to be banned from night-time driving and carrying passengers of a similar age.
They say "graduated driver licensing" (GDL) for those aged 17-19 could save more than 200 lives and result in 1,700 fewer serious injuries each year.
So how does GDL work in different countries?
Western Australia
In Western Australia, anyone who is under the age of 19, or who has not held a driver's licence for more than two years, is considered a novice driver and given a provisional licence.
The licence comes with certain conditions, such as a zero blood alcohol level at all times when driving.
For the first six months, night-time motoring between midnight and 0500 is prohibited.
However, there are some exceptions to the night-time ban which include driving to or from home to work - by the shortest possible route - driving as part of work duties, and driving to or from a place of education or training when enrolled for tuition.
New South Wales, Australia
Drivers between the ages of 17 and 25 in New South Wales are eligible to attempt a driving test if they have logged at least 120 hours driving time - which includes a minimum of 20 hours of night driving - and have held a learner licence for at least 12 months.
Motorists are then issued with a P1 driver licence - and have to display red P plates, not exceed a zero blood alcohol concentration and observe a maximum speed limit of 90km/h (55mph).
Drivers under the age of 25 are also only allowed to carry one passenger under the age of 21 between 2300 and 0500. They are banned from using all functions of a mobile phone, including hands-free devices.
A driver must hold a P1 licence for a minimum of 12 months before being eligible to progress to a P2 licence. On obtaining a P2 licence, the P plates change from red to green. Motorists are still not able to exceed a zero blood alcohol concentration, but their maximum speed limit is upped to 100km/h.
Drivers can progress to a full licence after 24 months.
California, US
In California, a provisional permit can be issued from the age of 15 once a knowledge and vision screening test has been passed, but motorists have to be supervised by a fully-licensed driver who is over the age of 25.
Before a driver can apply for a provisional licence, a permit must be held for at least six months, during which time a driver education course and six hours of professional driver training have to be completed.
At least 50 hours of practice also has to be certified by a supervising adult, at least 10 hours of which must be at night. Then a driver has to pass a driving test to obtain a provisional licence.
During the first year of a provisional licence, drivers are banned from driving between midnight and 0500, unless accompanied by a driver over the age of 25.
Drivers are also not allowed to carry passengers under the age of 20 at any time, unless accompanied by a driver aged 25 or more, for the first 12 months.
Motorists are able to get a full licence at the age of 18.
New Zealand
There are three stages to getting a car licence in New Zealand, and each stage comes with fewer restrictions.
The minimum age for holding a learners permit is 15, but learners must always be accompanied by supervisor - a driver aged 20 or older who has held a licence for more than two years. Motorists must also display "L" plates, and can only carry passengers if the licensed driver agrees.
After six months, drivers can apply for a restricted licence under which they are permitted to drive alone, but not between 2200 and 0500. Restricted licence holders are also banned from carrying passengers unless they are accompanied by a fully-licensed adult driver.
Drivers under the age of 25 must hold a restricted licence for 18 months - although this can be reduced to 12 months if the driver attends an approved driving course - before applying for a full licence.
Drivers aged 25 or over must hold the restricted licence for at least six months - but this minimum is reduced to three months on completion of the approved driving course.