Vince Cable dominates the headlines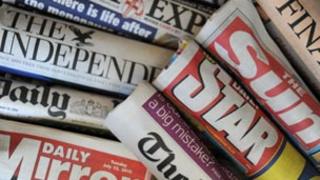 Vince Cable's speech to the Liberal Democrats' party conference dominates the newspaper headlines.
With excerpts released in advance of Mr Cable taking to the stage on Wednesday, the Express says he risks harming the unity of the government.
It says the business secretary will "deploy rhetoric reminiscent of trade union militants" when he attacks bankers and the City of London.
The Telegraph says Mr Cable will claim bankers are a bigger risk than unions.
For the Guardian, Mr Cable's speech has echoes of Denis Healey's famous pledge in 1974 to "squeeze property speculators till the pips squeak".
The Daily Mail says the business secretary risks going too far with his comments, warning "steady now Vince, you're in the government now".
Mr Cable's leaked comments have already provoked protest by business leaders, says the Financial Times.
It reports Mr Cable denying they represent an "outbreak of Marxism".
Suicide pact
The Sun reports that a man and woman who killed themselves together in a car in Essex were strangers who had met just hours before they carried out the act.
Police say the man had driven to see the woman after she had appealed for a suicide partner online.
The Times says the forthcoming Commonwealth Games in India has cast a shadow over the country's reputation.
It reports on the collapse of a bridge near the stadium, and problems with the accommodation for the athletes.
The Daily Mail reports that government advisers are suggesting that antenatal classes should be held in schools.
It says the sessions would reach out to gymslip mothers who are too embarrassed to speak to their GPs or local clinics.
There may be good news for British students concerned about the lack of university places in the UK, according to the Daily Telegraph.
It says 130 US colleges are going to start marketing themselves to prospective UK entrants.