'Secretive world' of suicide websites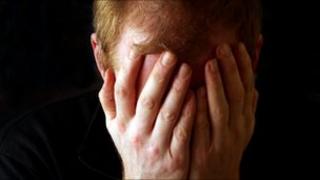 The self-inflicted deaths of a man and a woman who met online on a forum for people contemplating suicide has raised concerns over the role the internet has in helping or harming those thinking about taking their own life.
Suicide pacts are rare events - even more so when they are made over the internet.
Experts say there are no figures on how many suicide pacts have been made online, but in particular, Japan and South Korea have seen a sharp rise over the last few years.
The Samaritans say most common suicide pacts in the UK are between elderly couples who want to die together, typically when one of them is terminally ill.
But the charity stresses that anyone contemplating suicide should talk to friends, family, a GP or call their 24/7 helpline.
It is advice that Roy Boffey, whose 20-year-old son Philip killed himself after using a suicide forum in 2003, wishes his son had taken.
Instead, he says, Philip got involved in a "unreality... a secretive world" which he had no idea about.
"Websites begin in a therapeutic way - I think because the people who run them think it's a place for people to share how they feel when they are very low and don't have much hope in life.
"Then they move from being therapeutic to being supportive, a friend network. But the end result is it becomes a closed circle... nobody on those websites is going to confess to anybody outside."
He says suicide forums allow people to close down their emotional links with their family and "become glazed".
"It becomes a depressive circle of people talking about all types of things, which give them knowledge - because the sites give you various ways of taking life if that is the decision you chose - and friendship with people thinking the same way.
"They use all kinds of words like 'Catching the bus' or 'Making the journey' - slang words - other people might not understand."
'Contagion effect'
Paul Kelly, whose 18-year-old son Simon killed himself after contacting internet suicide websites in 2001, echoes Mr Boffey's feelings.
He says the internet cannot be blamed for people taking their own lives, but the problem with suicide chatrooms is people are often supported by others in the same situation, so often they have one solution - suicide - when friends, parents and medical experts could present alternatives.
He wants greater regulation over what information is freely available to discourage a "contagion effect".
"The immediacy and privacy of the internet makes it so very easy to get hold of information... it could be the last straw... there needs to be more voluntary efforts by the industry.
"If you compare it to the sexual grooming of children - which quite rightly there is a huge effort to control - there is no official body monitoring grooming for suicide, there's a great gap".
Papyrus, a national charity dedicated to the prevention of young suicide, believes there have been at least 31 cases of people who may have died as a result of interaction with so-called suicide sites since 2001.
Marjorie Wallace, chief executive of mental health charity Sane, says the "contamination on the internet poses a new and deadly threat".
The Samaritans have also warned about the dangers of internet forums but the charity's head of communications, Nicola Peckett, says the internet presents a mixed picture.
Although websites can be a bad forum for online bullying, she says if suicidal thoughts are expressed, it also presents an opportunity to positively intervene.
"We work with social networking sites to help them and their users offer support to people in distress.
"We are also making sure the Samaritans' website is one of the search engine results when a person looks for suicide-related information online.
"Websites can be a bad for online bullying, but if someone is expressing suicidal thoughts, there is an opportunity for someone to intervene, so it's not all bad."