UK armed forces in Afghanistan honoured for bravery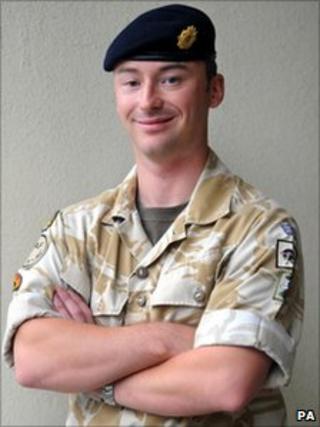 A teenager who seized a Taliban leader and a man who neutralised 42 bombs in 72 hours are among scores of UK service personnel to be honoured for gallantry.
A total of 131 members of the armed forces are to be awarded medals in the latest Operational Awards List.
Most medals, to be presented by senior royals at a later date, will go to soldiers from 11 Light Brigade - the UK's lead formation in Afghanistan.
Defence Secretary Liam Fox said the awards reflected incredible bravery.
'Sheer determination'
Among those on the Ministry of Defence list of those being honoured is Rifleman Reece Terry, of the 4th Battalion The Rifles, who will receive the Queen's Gallantry Medal for Bravery.
The 19-year-old, from Taunton in Somerset, led a night raid in southern Afghanistan in October to capture a Taliban leader who had killed many British soldiers.
In an area concentrated with bombs, he led a 100-strength force over seven irrigation ditches, through two belts of disused compounds and across fields.
He was armed with only a metal detector and night vision goggles.
Sgt Maj Karl Ley, of the Royal Logistic Corps, is to be presented with the George Medal for "awesome bravery" in tackling bombs.
The 29-year-old cleared 139 bombs during his six-month tour of Helmand province - twice as many as any other bomb disposal expert and more than anyone else in history.
His medal citation praised his "sheer determination, guile and awesome bravery".
Others to be awarded medals include a soldier who threw back an enemy grenade to save his colleagues, a woman who trained female police officers in Afghanistan, and an injured helicopter pilot who rescued six casualties while under fire.
Dr Fox said: "Each of these awards highlights the extraordinary courage and incredible bravery that is displayed by our service personnel.
"Our armed forces are the best in the world and those recognised today should feel extremely proud of their actions."
The awards, nine of which are posthumous, are for actions during the period 1 October 2009 to 31 March this year.
The 4th Mechanized Brigade took over from 11 Light Brigade in April as the UK's lead formation in Helmand province.