Father who caught paedophile calls sentence a 'joke'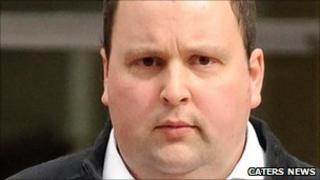 A father who marched a paedophile to the police station after catching him on the internet trying to groom his son, says he does not feel the man has been sufficiently punished.
Peter (not his real name) says the three-year community service order given to Jonathon Styles, 29, from Derbyshire, is a "joke".
Peter told BBC Radio 5 live's Victoria Derbyshire programme that his teenage son, Simon, went to meet Styles after chatting to him on a social networking site and on MSN.
When Styles asked him to get in his car he got "spooked" and returned to school. Simon later told a teacher what had happened and the school acted quickly, informing Simon's parents and making sure other children were safe.
Nervous
The police had been called by the school and were going to do a photofit and track the man down, but for Peter this was not enough.
"I only trusted myself to catch him," he said. "If I do it I know it's going to get done. The police are tied - they can't do this, they can't do that, they can't do the other. I can."
Later that day, Peter logged on to his Simon's MSN account, with his son in the room, and waited for Styles to get in contact. Within minutes Styles was messaging and asking why he had disappeared.
Posing as his son, Peter carried on a conversation with Styles making out that he had run away because he was nervous.
He was online for almost two hours, and said four times that he was 15 years old.
Entrapment
Styles initiated another meeting that evening at a patch of waste ground. Peter agreed to the meeting and then phoned police to tell them where he would be.
Peter took his opportunity at the meeting place when he saw that Styles's back was turned. He told BBC Radio 5 live: "I just sprinted... straight at him and grabbed him."
Peter took Styles to a nearby police station and handed him over.
He admits that police would have been unable to act the way he did.
"The way I caught him, they can't. Why? It's called entrapment."
'Predatory'
Jonathon Styles pleaded guilty to meeting a male child under 16 following sexual grooming. He was given a three-year community service order, put on the sex offenders register for five years, told to abide by a sexual offenders' prevention order and banned from using MSN messenger.
Presiding Judge Michael Fowler said a jail sentence might punish Styles but would not necessarily protect young people from his "predatory instincts".
But Peter says the sentence is a joke. He said: "If it's going to take three years to sort the fella out then he needs watching.
"He should be treated as a full sex offender. How long before we realise this is a serious crime and needs to be treated as such?"
'Year of hell'
Peter says he has found the past year especially hard. "We want to put this to bed," he said, "I thought when I caught him I'd feel better - it's been a year of hell.
"If I had my way I'd have him on every television programme. No vigilantism, that makes a victim of him. You see him in a park, you call the police."
To protect their identities the names of the father and son have been changed
BBC Radio 5 live Victoria Derbyshire is broadcast Mon-Fri, 1000-1200