Home Office to defend challenge to migrant cap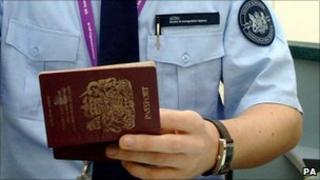 The Home Office has vowed to rigorously defend a High Court challenge by a campaign group against its decision to impose a cap on migrants.
The Joint Council for the Welfare of Immigrants (JCWI) says the policy imposed in June is "disproportionate".
But Immigration Minister, Damian Green, says he is committed to getting net migration back to 1990s levels.
The current interim cap on skilled migrants from outside the EU will be followed by a permanent yearly cap.
Mr Green says: "We will rigorously defend this challenge and are confident of success.
'Immense damage'
"The government has been clear; we will introduce our permanent annual limit on economic migrants from outside the EU from April 2011."
But JCWI chief executive, Habib Rahman, says the cap is already causing "immense damage" to British business and is "harsh and disproportionate".
"JCWI considers that the caps are a further attempt by the government to blame part of the financial difficulties the country finds itself in on migrants," he says.
In June, Mr Green said it was important to strike the right balance so that the people Britain need were brought in but not at the rate seen over the past decade which had "given rise to so much tension".
Some businesses fear the cap could stop them from filling vacancies at times of high demand, and other critics say it could have a detrimental effect on higher education, which is reliant on income from foreign students.
The latest official immigration figures show that more than 500,000 people came to the UK in 2008. Almost half of those were returning British nationals or EU citizens.
The legal challenge by the JCWI - a charity which defends the rights of asylum seekers, refugees and migrants - is expected to be heard in October.