Irish terror threat rise worrying - Peter Robinson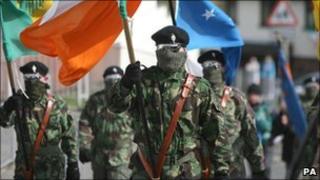 The raising of the threat level to Great Britain from dissident Irish republicans is worrying, Northern Ireland First Minister Peter Robinson has said.
Mr Robinson said the move underlined the need for adequate police resources to tackle the threat.
On Friday, Home Secretary Theresa May said the threat level had been raised from "moderate" to "substantial".
This meant a terror attack in mainland Britain was a "strong possibility".
'Micro groups'
Mr Robinson said dissident groups were trying to attract media attention.
"You have this group who clearly recognise that an incident in Great Britain will get very significantly more media coverage than it would if it was occurring in Northern Ireland," he said.
"This is about press coverage. They know they're not going to advance their cause by it. It's just some micro groups wanting to advance their PR."
The threat from Irish-related terrorism to Britain is still lower than the overall threat from international terrorism, which remains unchanged at "severe".
The new category of threat from Ireland applies to England, Wales and Scotland but not Northern Ireland, where the level also remains "severe".
Mrs May said the information was being released to encourage people to remain vigilant, and a balance needed to be struck between keeping people alert and not alarming them.
Peace process
MI5 Director-General Jonathan Evans said last week there had been a "persistent rise" in activity and ambition by dissidents in Northern Ireland over the past three years.
Dissident republicans were responsible for more than 30 attacks or attempted attacks on national security targets since the start of the year compared with about 20 for the whole of last year, he said.
The Real IRA recently hit out at Britain's "colonial and capitalist" system, threatening to target the City of London's financial institutions.
A spokesman for the Police Federation in Northern Ireland said its chairman, Terry Spence, had predicted that the threat would move to Britain.
Shadow Northern Ireland secretary Shaun Woodward said that, however serious the threat posed to Britain, it should be recognised that the peace process had changed Northern Ireland forever.
Nationalist SDLP leader Margaret Ritchie claimed MI5 was not sufficiently in control of the threat.
Conservative MP Patrick Mercer, a former Army officer who served in Northern Ireland, told BBC Two's Newsnight why he thought the threat level was raised.
He said: "The security forces will have seen either the movement of personnel, or the movement of equipment - weaponry, probably explosives in this case - the hi-jacking of vehicles and the preparation of vehicles, or probably a combination of two or more of those things.
"That will have caused them to change the threat level."