Newspaper review: Papers await Labour leadership result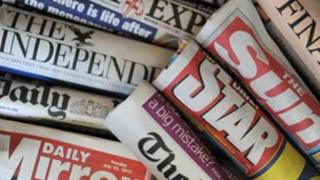 Many of the papers are keenly waiting for the result of the Labour leadership contest, with them all agreeing that the winner will be a Miliband - although they are not sure which one.
The Independent says the tension between David and Ed reached a new height when it emerged Ed was now favourite with the bookies.
The paper quotes an ally of David, saying he is not contemplating defeat. Supporters of Ed are said to have hinted at informal discussions on how to handle the result.
Party tension
The Times says whichever Miliband brother wins the leadership will face an immediate internal party battle over how to oppose the coalition's plans for big cuts to reduce the deficit.
It says the victor will come under pressure from the left and centre of the party to pursue different courses.
The paper predicts that tension will spill out onto the floor of the Labour party conference.
However, in an editorial, the Daily Mail describes the contest as "dull".
Gay bishops
In an interview in the Daily Telegraph, David Cameron appears to hold out the promise of tax cuts once the deficit has been reduced.
The paper says the move is intended to please Tory supporters and MPs ahead of the party's conference next month.
Speaking to the Times, the Archbishop of Canterbury says he has no problem with homosexuals as bishops, as long as they are not in active relationships.
The paper says Rowan Williams has gone further than ever before on the issue.
Fruit crop
The Guardian says it has discovered that police forces and other agencies are exploring the potential of unmanned drones for covert aerial surveillance.
They hover at heights of around 60 metres and are said to be virtually invisible from the ground.
The Daily Telegraph reports on predictions of a bumper crop of wild fruit and berries this year.
It quotes the National Trust as saying a sunny spring and early summer are resulting in potentially huge harvests.