Call to scrap child contact vetting system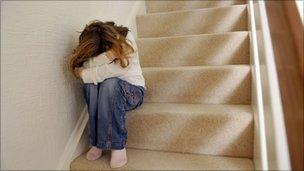 The government must scrap the current vetting system for those working with children, a think-tank has said.
Civitas said the Vetting and Barring Scheme (VBS) risked combining with a broader culture of fear to "poison the relationship between the generations".
The organisation called for a "greater openness and more frequent contact" among people of different ages.
Home Secretary Theresa May suspended the "draconian" scheme in June so a review could be launched.
She said it was time for a more "common sense" approach to assessing people who worked with children and vulnerable adults which did not risk alienating volunteers doing valuable work.
A Civitas spokesman said: "If the government fails to halt the VBS, the scheme will continue to poison the relationship between the generations, intersecting a broader culture of fear, which creates a formal barrier between adults and children."
Civitas said the system went against the government's "Big Society" idea, and "actually increases the risks to children".
The organisation said problems included:
More than 12,000 innocent people erroneously being labelled as paedophiles, violent or criminals
Councils banning parents from playgrounds, saying only vetted "play rangers" would be allowed in
Parents running into difficulties when trying to share the responsibilities of the school run
Frank Furedi and Jennie Bristow, who wrote the Civitas publication Licensed To Hug, said: "The VBS has interfered with parents' ability to make private arrangements, subjected a quarter of the population to intensive scrutiny of their personal lives, discouraged volunteering and institutionalised mistrust between the generations."
They said there was "widespread confusion" around when the checks were needed.
Children's charity Childline president Esther Rantzen said society had to accept there were limits to how far children could officially be protected.
"I would say if you have any conviction for any crime of violence or any conviction which may be appropriate, you should be barred from working with children," she said.
"But that's a very different thing to this extraordinary industry that's sprung up where people get soft intelligence on police computers, which has no evidence to back it up, and use that to bar people from employment. And when volunteers find it so difficult, writers can't go and read their work in schools."
However, children's charity Barnardo's said the system should be adjusted but not scrapped.
Chief executive Martin Narey said: "Much as it might be unpleasant to stomach, this scheme is necessary to protect our children, as adults who seek to harm children can be uniquely manipulative in gaining positions of trust."
The NSPCC said the government needed to "strike the right balance between keeping children safe and not deterring adults from volunteering or working with children".
Civil rights group Liberty said ministers must "ensure that lives and careers are not unnecessarily blighted".
Policy director Isabella Sankey said the scheme "casts its net too wide and employers are still told directly about any allegation, or piece of gossip, malicious or not, ever made against a job applicant".
The VBS system was launched in October last year in response to the murder of 10-year-olds Holly Wells and Jessica Chapman by school caretaker Ian Huntley in 2002.
Set up by the Independent Safeguarding Authority, it was designed to prevent unsuitable people working with children and vulnerable adults, with employers facing prosecution for breaches.
An independent review of the scheme took place last year after complaints that volunteers were being discouraged because the registration net was too wide.
As a result, ministers agreed to vet adults only if they saw the same group of children or vulnerable people once a week or more, rather than once a month as originally proposed.
Around nine and a half million people in England, Wales and Northern Ireland, were expected to have been required to register with the ISA under the old scheme. Scotland has been in the process of introducing its own scheme.
A Home Office spokesperson said: "Registration with the Vetting and Barring Scheme (VBS) was halted in June to allow the new government to bring the criminal records and Vetting and Barring regime back to common sense levels.
"The terms of reference for the remodelling of the VBS and of the criminal records regime are currently being considered and a further announcement will be made shortly."
Related Internet Links
The BBC is not responsible for the content of external sites.