Afghanistan deadline significance 'overstated'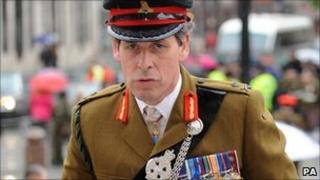 The significance of a deadline to begin withdrawing US troops from Afghanistan has been "overstated", Britain's top general in Kabul said.
Lt Gen Sir Nick Parker, deputy commander of Nato in Afghanistan, said it was "entirely reasonable" for some personnel to leave by July 2011.
He said the date was an "interesting milestone" but had "been interpreted by people as they would wish".
The timetable was set by US President Barack Obama.
Speaking to journalists via a video link from Kabul, Lt Gen Parker said military advice would be for "as few as possible" troops to be pulled out next year.
He said: "It is entirely reasonable for there to be some drawdown of some sort, although I suggest that all the indicators I've heard are this is not as significant as some people choose to make it out to be.
"We will by July next year have many more Afghans in the front line and we will have many more Isaf (Nato-led International Security Assistance Force) troops providing enabling and supporting functions."
He said he suspected "domestic politics in certain countries" over the July 2011 deadline, where it had been "overstated".
'Challenging task'
Lt Gen Parker, who is shortly returning to the UK to become Commander-in-Chief Land Forces, predicted that by next summer British troops in many areas of Helmand province would be able to hand over responsibility for front-line security to Afghan police and soldiers.
But he said: "My military advice is, we should be cautious.
"We should not in any way let the Afghans feel that we are not supporting them and allowing them to do what will remain a very challenging security task. This is a debate which we need to be very measured about."
Lt Gen Parker also said he may have overplayed how successful the Operation Moshtarak offensive against insurgents in Helmand would be.
Launched in February, this saw some 15,000 UK, US and Afghan forces attack Taliban strongholds in areas around Marjah and Nad-e-Ali.
Lt Gen Parker said: "As we promoted the prospect of Operation Moshtarak, we were probably a little bit over-enthusiastic in the comprehensive success that we were going to achieve.
"I suspect the way my words were interpreted, there was an expectation of a sudden sort of 'peace in our time' at the 120-day point. Of course that self-evidently has not been the case.
"But what has happened is that the security operation has done what we said it would do. There is persistent security in large parts of central Helmand, where we have taken some pretty serious fights to the insurgency."