Minimum alcohol price 'would give retailers a windfall'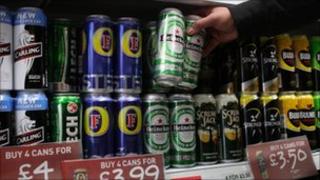 The largest supermarket chains would reap a £700m windfall if minimum alcohol price levels were introduced across the UK, research has claimed.
The Institute for Fiscal Studies looked at the likely impact of a 45p minimum price per alcohol unit.
Such a measure was recently proposed by the Scottish government, but rejected by opposition parties at Holyrood.
The IFS said the UK government should instead look at raising alcohol taxes if it wished to target excess drinking.
It said such a policy would benefit the public purse rather than retailers.
While the Scottish Parliament could vote to introduce minimum alcohol prices, any decision on higher duty on alcohol would have to be taken by the UK government.
'Needed revenue'
The IFS said that the UK's largest supermarket, Tesco, would see the most financial benefit from minimum alcohol pricing, followed by Asda and Sainsbury's.
It added that the national retailers which do not sell much cheap alcohol - Waitrose and Marks & Spencer - stood to gain relatively little.
IFS senior research author Andrew Leicester said: "Minimum alcohol prices would transfer large sums from consumers to those firms that retail and produce alcohol, but may target households that consume the most alcohol more directly than increases in alcohol taxes.
"However, higher taxes would generate much-needed revenue."
He added that the government should seek to change European regulations on how alcohol taxes can be structured, "so that taxes can mimic the impact of minimum prices whilst ensuring the resulting revenues go to the government and not firms".
Supporters of minimum pricing include police forces, doctors, alcohol awareness groups and Tesco.
Scottish Health Secretary Nicola Sturgeon has said that the introduction of a minimum price per alcohol unit in Scotland would mean 50 fewer deaths, 1,200 fewer hospital admissions, and 400 fewer violent crimes in only its first year of operation.