UK man arrested over Spanish bank raids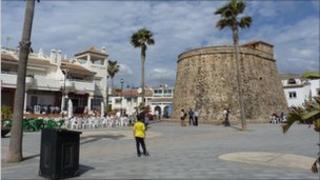 A British man has been arrested in Spain on suspicion of carrying out a number of armed bank robberies, Spanish police have said.
The 49-year-old, as yet unnamed, is alleged to be behind 15 raids on banks in the provinces of Malaga and Alicante on the country's Mediterranean coast.
A 31-year-old Russian woman, who is suspected of being his accomplice, has also been arrested.
Police say the pair could have stolen 115,000 euros (£98,345) in total.
Detectives claim that the raids were carried out by the woman first ringing the bell of a bank to get a member of staff to open the door, before the man would enter armed with a pistol.
Motorway arrest
They added that in some cases the man would hold the gun to the heads of bank staff.
Spanish police said that when the pair were arrested, officers seized a pistol, two wigs, a fake beard and moustache, and a purse containing stolen cash.
Their first bank robbery is said to have taken place in 2008, with the most recent happening on Friday of last week.
The man and woman were arrested by police officers stationed near a toll barrier on Spain's A7 motorway.
Officers said they swooped on the pair following a five-month investigation that begin in April, and was codenamed Operation Flanders.
The pair are said to have carried out three bank robberies in Fuengirola since 2008, and five more in Marbella.
Additional raids are said to have taken place this year in Mijas, Alfaz del Pi, Calpe, Alicante, Sabinillas, Cala de Moral and Torrox.