Is it unethical for football fans to applaud criminal players?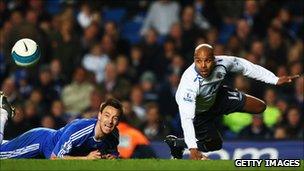 After footballer Marlon King served nine months in jail for sexually assaulting and punching a woman in a bar, he was warmly applauded by fans at his new club. Does it matter?
Ann Lucas has three main passions - football, family and politics - and they've happily co-existed for all of her life.
But not any more. She says her beloved Coventry City FC have broken her heart by recently signing a convicted sex offender - something which angers the Labour councillor so much that she has decided to boycott her team after nearly 50 years of watching them.
Mrs Lucas, who also helps victims of domestic abuse, says she just cannot bring herself to attend matches while King - released from prison this summer after being sentenced to 18 months for groping and punching a young woman in a central London bar - is a player at the Ricoh Arena.
Her decision came after several supporters' polls in Coventry suggested fans were split down the middle as to whether they wanted King to join.
King cost Wigan Athletic £5m from Watford as recently as 2008 and several clubs were interested in signing him after he was released from prison.
But Mrs Lucas, 61, says: "My season ticket won't be used and it won't be renewed. It's a matter of principle and I've had some tremendous support from people."
King's offences have provoked widespread condemnation and they appear at the more serious end of a wide spectrum, from driving offences to violent crime.
In 2000, after a student was beaten unconscious in Leeds, footballers Jonathan Woodgate and Lee Bowyer faced charges of grievous bodily harm. Woodgate was convicted of affray, while Bowyer was cleared of all charges, although both were condemned by the newspapers for their conduct.
But many fans simply don't care about ethics, just performance, says Ellis Cashmore, professor of culture, media and sport at Staffordshire University, who is carrying out research into football fans' attitudes.
About 3,500 people have answered his survey, and he says "around 94% of fans are interested in only one thing - how well they play for their team. That supersedes all other considerations."
Initial evidence tends to support Prof Cashmore. When King's name was read out before his Coventry debut last month, loud cheers rather than jeers rang around the Ricoh Arena.
But it's not like that everywhere. In 1997, Boston Red Sox star Wilfredo Cordero was arrested on suspicion of beating up his wife and threatening to kill her.
The Boston Globe then produced court papers in which Cordero's first wife alleged he had struck her "on numerous occasions" causing "bruises and bleeding", including when she was pregnant.
That proved too much for the Red Sox management who first suspended him and then, after he was loudly booed by his own fans upon his return, showed him the door.
Baseball legend Barry Bonds holds the record for the number of career home runs, but some fans refuse to acknowledge the San Francisco Giants' hitter's achievement, because of his alleged use of performance enhancing drugs.
Bonds has been charged with perjury after telling a federal grand jury that he had never knowingly used steroids, and is due to stand trial next spring. In San Francisco, though, Bonds is still a hero to many, suggesting that talent can go a very long way in helping to wipe the slate clean.
On the wider question of whether it's possible to separate on and off-field behaviour, Prof Cashmore says: "Who says that footballers are meant to be well-behaved and have got to be angels?
"They tend to be signed at the age of 12, are probably barely literate because they're not interested in school, and tend to be very immature. They have somebody on hand to take care of everything for them, and are so detached from reality.
"Any parent who thinks footballers should be a role model to their kids needs their head examining."
There's also the point that people like King have already been punished. Speaking in a personal capacity, Amanda Jacks, from the Football Supporters' Federation says: "While I recognise [cases like these] stir up strong feelings, we have an excellent judicial system in this country and Marlon King has served his time.
"Surely it's better for society if players like him have the chance to rehabilitate themselves and earn a living? You do the time, and then you are released back into society to try to make amends, to show that you have learned from your mistakes."
The dedication of footballers can be admired but they should not be held up as paragons of virtue, she says.
"To say footballers should be role models any more than Kate Moss, Liam Gallagher or Tom Cruise ask to be role models, is ridiculous."
But players' conduct should matter, says Mike McNamee, a professor of applied ethics at Swansea University, who also edits the British Philosophy of Sport Association's journal - Sport, Ethics and Philosophy.
"If you think professional football is only about technical excellence then you will justify cheering Mr King as he finds the back of the net for your club.
"But, if like me, you think professional sportspersons have no choice but to be role models - given the high profile of sports such as football in our modern culture - then it's right to expect of them standards of professionalism which go beyond the mere technical demands of their job.
"Nobody expects the professional footballer, nor the academic for that matter, to be a saint. Nevertheless, unless like Saint Augustine you can 'love the sinner, but hate the sin', Coventry fans should think twice about rising to their feet to cheer the next goal Marlon King scores."
Coventry's latest ex-fan, Mrs Lucas, agrees.
"I am not saying footballers have to be squeaky clean, but whether they want it or not, they are role models and they have a responsibility to behave themselves.
"If you ask any child lying in a hospital bed who would cheer them up the most by paying a visit, they don't say a police officer or a politician, do they?"
Related Internet Links
The BBC is not responsible for the content of external sites.